Richardson Grove was originally developed as a roadside resort where people could camp in the redwoods, and today its three campgrounds are still the main reason most people come here. The campgrounds are mostly wooded with small trees, but a few sites (about 10 of 170) have some pretty impressive lowland redwoods. Although that doesn't sound like a lot, it's pretty unusual to find places where you can camp among old growth redwoods.
The big problem with these campgrounds is that Highway 101 runs right alongside them. Although it's not that loud in some areas, especially at night, the highway prevents Richardson Grove from being as enjoyable as the other southern Humboldt campgrounds. A more minor issue is that it's about a 10-minute walk from the campsites to the redwood grove, river, and campfire center, far enough that most people drive instead of walking.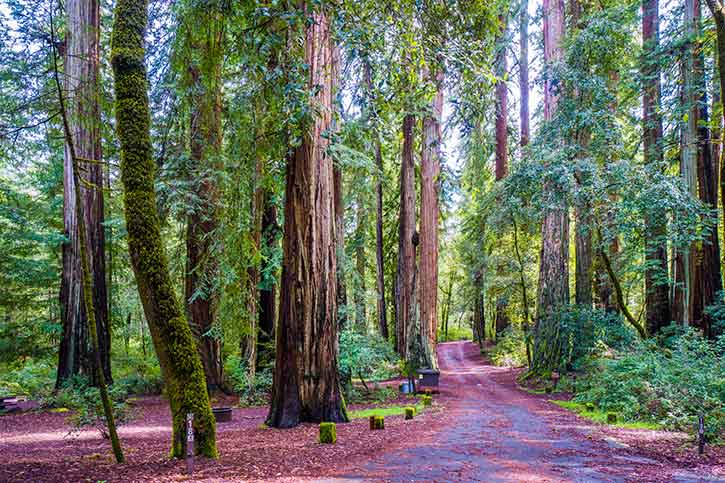 Links

---
Here's the park entrance in Google Maps.
Make reservations through Reserve California; search for Richardson. You can make reservations up to 6 months in advance. Two types of site can be reserved: "campsites" can accommodate RVs and trailers, while "tent campsites" are for tents only. Otherwise they look exactly the same.
Huckleberry Campground

---
Huckleberry Campground stands out because of its small but very attractive stand of old-growth redwoods. Only a few sites (sites 18, 19, 20, 21, and 23) are actually in big old growth redwoods; these are by far the most scenic sites on the loop. Of these, site 23 is the best but it's an ADA site, so it can't be reserved without a disability placard. The other old-growth sites have minor issues: sites 18 and 20 aren't level; site 19 is at the edge of the old growth and has a stump; site 21 has less privacy because it's an interior site and the old growth is very open, with little ground-level vegetation to screen the site from its many neighbors.
Site 28 isn't in the redwoods but is the nicest on the Huckleberry loop; it's next to a wooded ravine and is little quieter and more isolated than the other sites.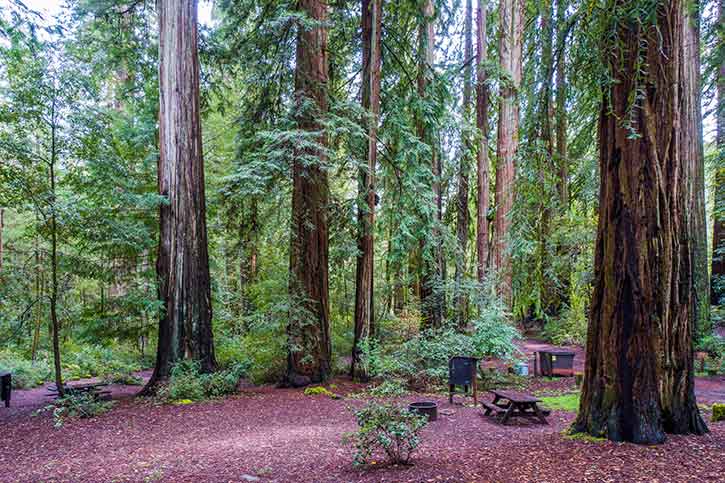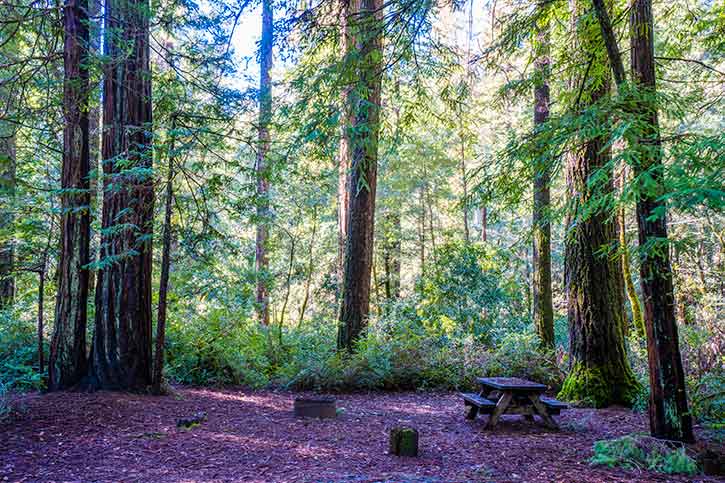 Madrone Campground

---
Madrone Campground is mostly tanoak woodland with a few small redwoods mixed in. The side of the loop closest to Highway 101 has some scattered redwoods, but there's a lot of traffic noise in that area. The other side of the loop (sites 46–53) has few redwoods but is much quieter. Madrone is the only Richardson Grove campground that's open in winter.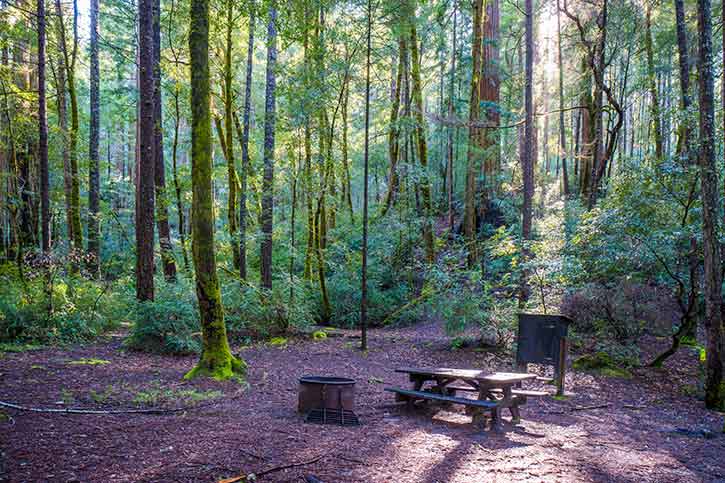 Cabins

---
At the entrance to Madrone Campground is a row of little cabins. The cabins are at the edge of the old-growth redwoods. Like all state park cabins, they're very basic, with amenities similar to a tent cabin; there's no bathroom or kitchen and you have to bring your own beddings. The cabins are on top of a little hill above Highway 101 and get a lot of traffic noise.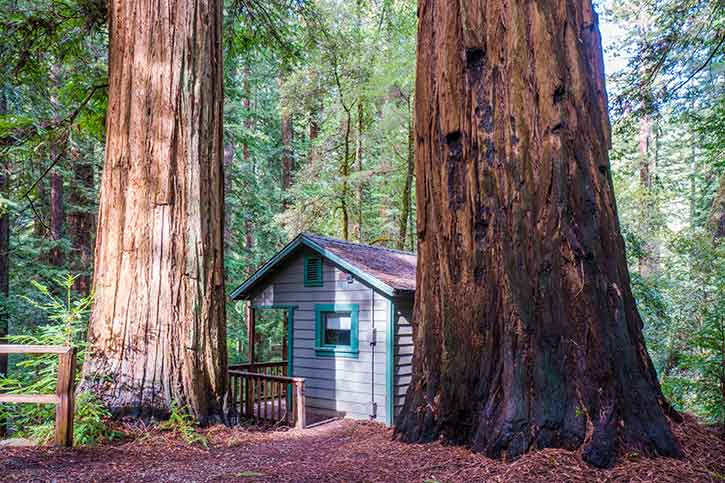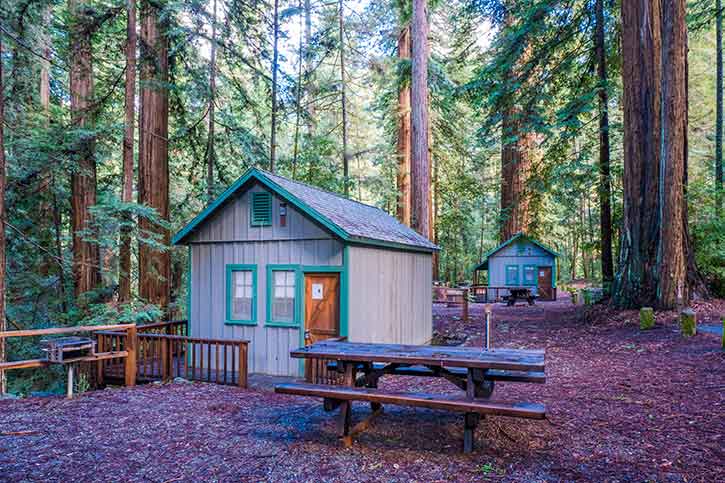 Oak Flat Campground

---
Oak Flat is Richardson Grove's biggest campground, but it kind of feels like an overflow area for the other two campgrounds. It's not as nice, and it's a long way from the park's main attractions (the redwood grove, visitor center, and campfire center) down a dusty gravel road and across the Eel River.
While the other campgrounds are on a cool, densely-wooded west-facing slope, Oak Flat is on a hot and relatively dry east-facing slope, so the woods are less attractive and seem dry and dusty in summer. This area also gets really buggy in summer, and for some reason it seems to attract noisier campers. The middle of the campground is very open, with little understory vegetation to provide privacy. However, sites outside the main loop are more densely wooded, and one or two sites at the very northern tip even have a few big redwoods.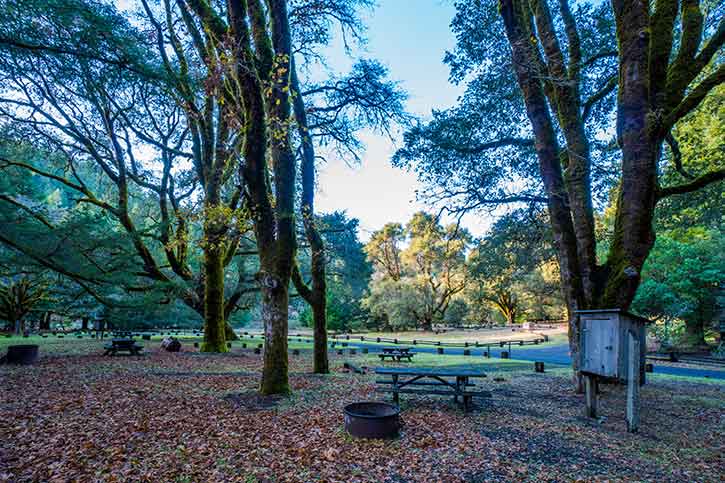 Because the campground is directly across the Eel River gorge from Highway 101, it gets more traffic noise than the other two campgrounds. The noise is intrusive but not deafening. Sites 156–159 get the worst of the noise.
The best sites are in the ones along the southern edge of the campground, which are at the edge of a low bluff overlooking the Eel River; the woods are denser and more attractive in this area. Site 88 has a bit of a view of the river and is the best site overall. Site 82 has a more limited view but is still pretty nice, and site 90 has a limited view.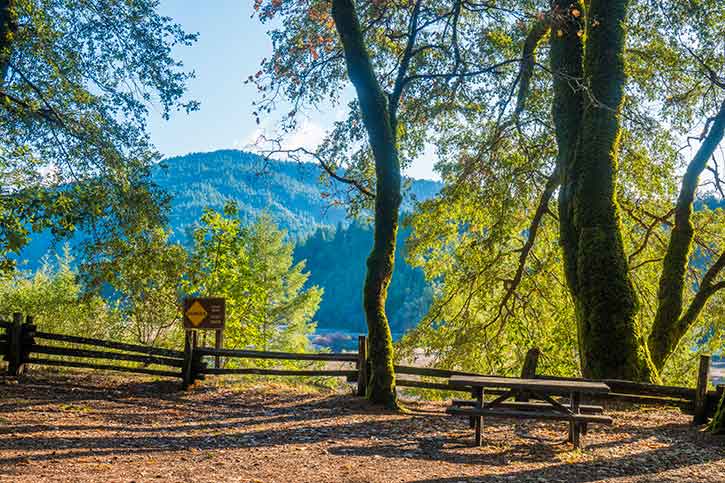 Oak Flat is only open from July 4th (maybe a few weeks earlier if the Eel River is low enough) until Labor Day.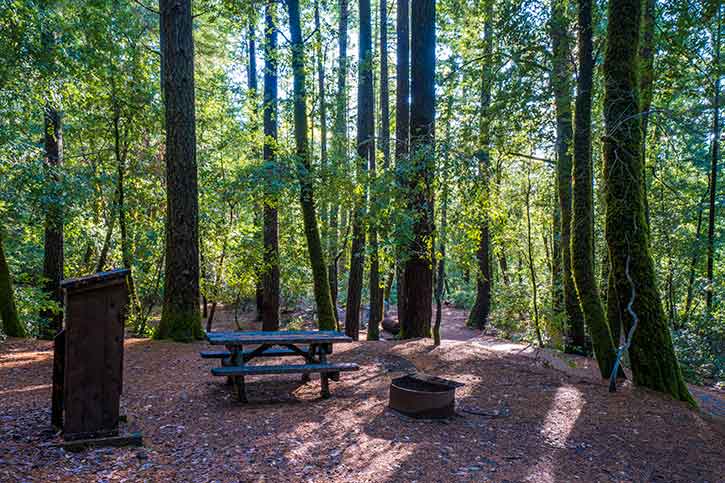 Details

---
The campsites are mainly intended for tent camping. There are also five cabins. Each site has a picnic table, a food locker, and a fire pit, and coin-operated showers are available. There may be cell service within the park.
The maximum RV length is 30 feet and the maximum trailer length is 24 feet; typically for a state park, there are no hookups. The campground doesn't have a dump station, but one is available at a nearby private campground; ask at the entrance booth. Richardson Grove State Park is not the same as Richardson Grove RV Park (or Richardson Grove Campground and RV Park), which is a small privately-owned campground just south of the park.
Winter closures change from year to year. Currently the campsites are closed in the winter, with only the cabins staying open.