★
The Alder Creek Grove
Featuring the Stagg Tree
---
The small hilltop Alder Creek Grove contains a community of mountain cabins known as Sequoia Crest, making it the most heavily-developed sequoia grove.
The grove doesn't have a typical old-growth feel, but seems more like an ordinary Sierra woodland decorated with a few big trees. Although it has a nice collection of big sequoias, they're somewhat widely scattered and all of the grove appears to have been logged of non-sequoia trees. There are also a few huge sequoia stumps. The woods around the houses are in the best condition and are fairly lush-looking; the dirt roads leading away from the community are more obviously logged, with exposed sequoias growing out of open fields in some places and dense stands of really small trees in others.
Nontheless, the grove is still an attractive place and many of the cabins are quite nice. In fact, it's perhaps the most attractive community in the Camp Nelson area. Much of the community is open and sunny and the cabins are larger and better-looking than in neighboring communities. There are glimpses of the scenic high country just to the north.
The southeast quarter of the grove, including the Stagg Tree, was privately owned until 2019, when it was purchased by the Save-the-Redwoods League for eventual inclusion in the Giant Sequoia National Monument. The grove burned in the 2020 Castle Fire, killing about 40% of its sequoias over 6 feet in diameter, but the Stagg Tree was protected by sprinklers.
The Stagg Tree is an immense sequoia that can be reached by a short walk on a private road just outside the main part of the community. Park at the north end of the development; there's a sign indicating where to park. Follow the handmade signs to the Stagg Tree, walking around the gate and up the dirt road. Due to logging, this is a very open, sunny area with a few sequoias. Coming to a wide spot in the road occupied by a collection of mobile homes and two shacks, veer off to the right. The woods become denser after this point.
Stay to the left at the next intersection. At the edge of the sequoias, a trail leads off to the left, descending steeply down the hillside. After just a few yards the trail ends at the immense Stagg Tree. The tree really is quite impressive; it doesn't seem to taper at all as it shoots through the canopy.
Related websites

---
---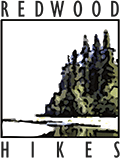 © 2013 David Baselt