The Giant Forest is the centerpiece of Sequoia National Park. Home to the world's biggest tree (by volume) it's the best sequoia grove, by far, for hiking. It has the most singletrack trails of any sequoia grove, it has one of the best collections of really big trees, and it hasn't been logged. The forest is very open but still has, in many places, an attractively lush groundcover, and it has some especially scenic meadows to add variety.
Next to the Giant Forest are the Lodgepole and Wolverton trailheads, which are the starting point for three excellent high-country day hikes: the easy Tokopah Falls Trail, the challenging Lakes Trail, and the very challenging Alta Peak Trail. If you have enough time I think a great itinerary would be one sequoia hike and one high country hike. However, keep in mind that ascending is noticably more difficult than at sea level.
Sequoia hikes

---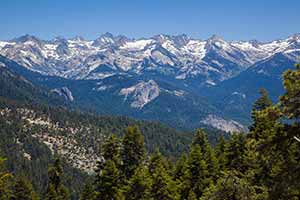 ★★★★
Wolverton Cutoff
Length 9.6 miles · Climbing 1380 feet
A great introduction to Sequoia National park, this superb hike combines the alpine views of the High Sierra Trail with a pass through the best part of the Giant Forest.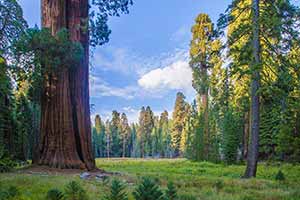 ★★★★
Round Meadow
Length 1.9 miles · Climbing 150 feet
A short walk through some of the park's most scenic sequoia stands. Avoids the worst of the crowds.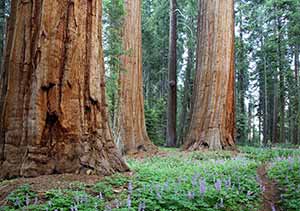 ★★★★
Muir Grove
Length 4.2 miles · Climbing 530 feet
A trail from Dorst Campground leads to the superb Muir Grove. The trail ends at the edge of the grove, but there's about a half-mile of unofficial trails within the grove.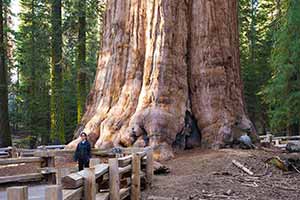 ★★★★
Congress Trail
Length 2.9 miles · Climbing 470 feet
A popular trail with the most impressive trees of any sequoia hike. It starts at the General Sherman Tree, the largest in the world, and leads to a collection of large sequoias a mile away.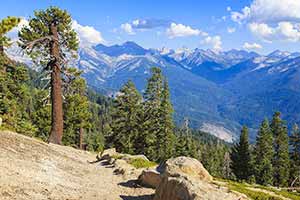 ★★★
Sevenmile Loop
Length 14.9 miles · Climbing 2580 feet
A longer version of the Wolverton Cutoff loop, this loop climbs into the high country before returning to the Giant Forest.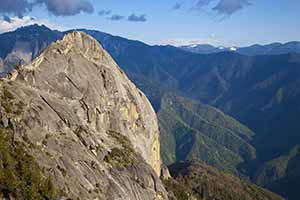 ★★★
Moro Rock and Crescent Meadow
Length 7.3 miles · Climbing 1360 feet
A fun route that connects two of the park's best-known attractions and also includes plenty of sequoias.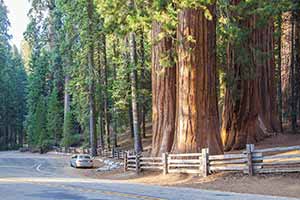 ★★
Lost Grove
Length 0.3 miles · Climbing 110 feet
This small old-growth sequoia grove on the Generals' Highway is a popular stopping point since its biggest trees are right by the side of the road.