★★★
Grant Grove
---
Length 0.4 mi · Climbing 50 ft
Grant Grove is one of the main attractions of Sequoia and Kings Canyon National Parks and home to the world's second-largest tree. The grove is quite large but most of the really big trees are concentrated in the area right around the paved Grant Grove loop trail. This area is really very scenic, with an exceptional collection of real monster trees in a moderately lush forest and a few spots where you can get a striking view of an entire sequoia from top to bottom.
Unlike the Giant Forest, at Grant Grove you can park right in the grove and don't need to take a shuttle or walk a half-mile just to reach the sequoias. However, outside of the paved loop, the rest of the grove is much less impressive and by and large the many other trails in the area aren't really anything special. Overall, the Giant Forest is more impressive and has much better hiking.
Grant Grove is pretty busy, but not so busy that you can't find parking in the small lot. If the lot is full, try the RV/camper overflow lot (to the left as you enter), which has lots of spaces for regular cars and is only 50 yards further from the trailhead. On a nice summer weekend you might see a group or two of visitors each minute on the trail. After 5 pm, the crowds start to thin and it's easier to appreciate the scenery.
Starting from the large signboard in the parking lot, take the paved trail to the left. The trail climbs past a series of truly impressive monster trees. Near the beginning is the Fallen Monarch, a large hollow fallen tree that you can walk through and that's one of the most popular spots on the trail. The first half of the trail has most of the really big trees, culminating in the General Grant at about the halfway point. The General Grant really is something to behold, an immense tree that doesn't taper. After that, the trail descends through somewhat less-interesting woodland. At one point there's a dramatic view back to the General Grant.
Oddly, the trail intersections are not marked and some people inadvertently end up wandering off the main loop. If in doubt, just follow the paved trail.
One short (and fairly popular) detour that's worthwhile is to take the trail that leads north from the Gamlin Cabin and then turn right in a few yards at the T intersection. The trail passes a few big sequoias that grow just uphill from the General Grant Tree but that aren't visible from the paved trail. Turn back after about a quarter-mile, when the trail leaves the sequoias.
Related websites

---
---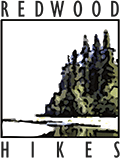 © 2011, 2019 David Baselt