This area includes the sequoia groves near the main entrance to Kings Canyon National Park.
Grant Grove

---
Heavily-developed Grant Grove has campgrounds, park-owned cabins, a privately-owned development, an extensive trail network, a lodge, convenience store, and restaurant, all in a 2.5-mile-wide block of Kings Canyon National Park. The best scenery in the area is on the Grant Grove Trail, a half-mile paved loop that passes by perhaps a dozen giant trees. Outside this short trail, the rest of the grove isn't nearly as impressive. Most nearby trails pass through rather mundane pine forest, although east of Highway 180 the landscape rises toward a ridge with lusher woodland and some nice views. Some trails east of Highway 180 are little-used and are heavily overgrown or have disappeared completely.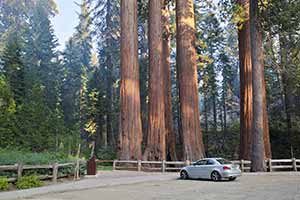 ★★★
Grant Grove
Length 0.4 miles · Climbing 50 feet
A short paved loop that's easy to get to and has quite a few big trees, most notably the General Grant, currently the world's second-largest tree.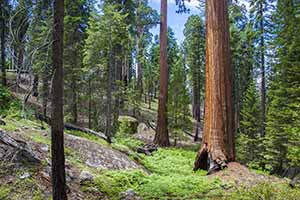 ★
North Grove
Length 1.9 miles · Climbing 390 feet
A dusty dirt road with a few big sequoias. Not nearly as impressive as the main Grant Grove trail.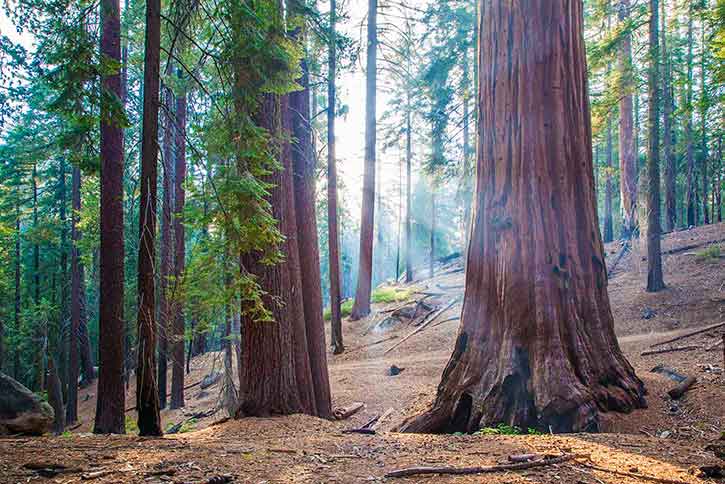 Giant Sequoia National Monument

---
The National Monument consists of two large regions with half of the world's sequoias. Unfortunately, as part of Sequoia National Forest, it's essentially a government-managed timberland, so most of the sequoia groves in this area have been logged. The most aggressive logging occured in the 1980s, when numerous stands of old-growth pines, firs, and cedars — most of the trees within the groves — were clearcut. In 2000, the Giant Sequoia National Monument was created to better protect the sequoia groves, but it's still part of the National Forest and smaller trees can still be logged as part of the forest service's fire suppression practices.
The Monument has an extensive road network sprinkled with numerous campgrounds and privately-run retreats, including the Sequoia High Sierra Camp, which may be the nicest place to stay in the Sequoia and Kings Canyon area. By and large, though, the National Forest-operated facilities don't look as nice to me as the national parks'. In hunting season (fall) the rolling hills echo with the nearly continuous sound of gunfire.
Much of the National Monument burned in various fires between 2015 and 2021 and is still closed. The pages below are from before the fire.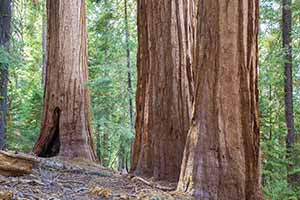 ★★★
Evans Grove
Length 3.8 miles · Climbing 980 feet
A 1-mile hike over open hills to a small but superb old growth area.