★★
The Hotel Creek Loop
---
Length 7.2 mi · Climbing 1910 ft
Although it's not nearly as busy as the Mist Falls hike or Zumwalt Meadow, the Hotel Creek Trail is still one of the more popular trails in the park, in part because it starts near the Cedar Grove Lodge, but also because it offers a view of the canyon with a relatively short hike. However, except for a nice stretch in the middle, the trail is less scenic than the trails in the Roads' End area.
Starting at the Hotel Creek trailhead, the trail starts climbing through the pine woods of the canyon floor. Soon, though, the trail leaves the woods and begins switchbacking uphill through sunny chaparral. At first the trail climbs a steep slope, but it eventually starts to level. As it does a few pine trees appear, but the vegetation is still mostly chaparral.
A side trail leads to the Cedar Grove viewpoint. The side trail is, surprisingly, more or less level, descending slightly and then ascending. The sweeping view from high above Cedar Grove, from a point midway along the canyon wall, is dramatic but not nearly as scenic as the end-on views of the canyon from the Roads' End trails. Looking at the opposite canyon wall, you can see the tracks cut through the pines by avalanches.
Most visitors just return the way they came at this point, a route that results in a shorter hike but also misses the best scenery of the loop. Returning to the Hotel Creek Trail, turn left to continue the loop. The hillside is very gently sloped here, and the chaparral has given way to a very sparse forest of stout ponderosa pines. The trail undulates up and down gently through the green landscape. As the trail approaches the Lewis Creek Trail, there are some nice views of the scenic, pine-dotted Lewis Creek drainage.
Unfortunately the route soon turns away from this alpine landscape; reaching the Lewis Creek Trail, it instead switchbacks down through unremarkable chaparral. Just before reaching the road, there's an unmarked trail to your left. Take this trail, which climbs alongside the road back to the Hotel Creek trailhead. There's a surprising amount of climbing on this last segment of the loop.
---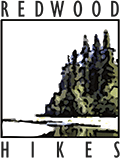 © 2012 David Baselt