This page covers hikes that start from the bottom of Kings Canyon. The park's sequoias are in a different area; see the Grant Grove page.
Kings Canyon is a 1-hour drive from the park entrance on winding mountain roads. The road descends through hot, dry, chapparal-covered hills with views of forbidding mountainous terrain, then passes through a narrow, vertical-walled gorge, and finally bottoms out and follows a pleasant stretch of the Kings River for a few miles. Due to the danger of falling rock the road is closed each winter, usually from late November through April.
Because it doesn't have the waterfalls or distinctive rock formations of Yosemite, Kings Canyon gets relatively few visitors and still feels like a backwater. The concessions center, Cedar Grove Village, is more of a hut than a village, and on most trails you can walk for hours without seeing anyone.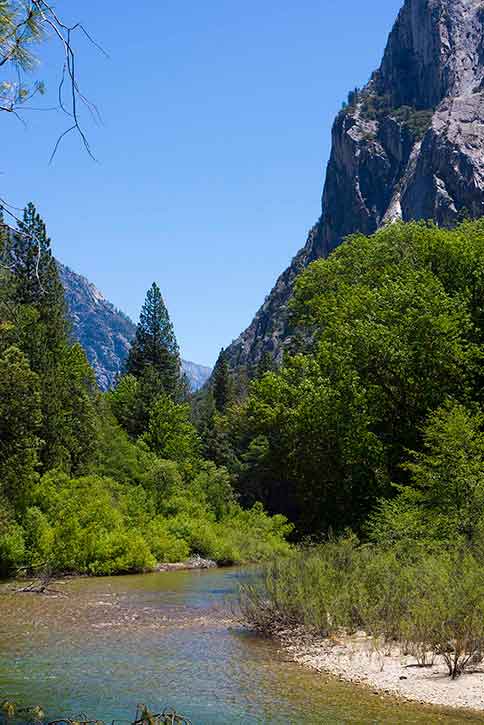 Seven trails climb out of the canyon and are mainly used by backpackers to reach the scenic alpine lakes and basins some 5,000 feet above the valley floor, especially the extremely popular Rae Lakes. For day hiking these trails aren't especially rewarding, since they start from a low altitude and it takes more than a day of hiking to reach the scenic payoff of the alpine zone and then return.
The trails on the south bank of the Kings River are enjoyable and little-used: it's immensely enjoyable to hike around on the valley floor without seeing any development and without crowds.