★★
Lost Grove
---
Length 0.3 mi · Climbing 110 ft
Lost Grove is a small old-growth sequoia grove on the Generals' Highway, midway between Grant Grove and the Giant Forest. It's a popular stopping point since visitors can easily stop and see the sequoias without hiking or taking any shuttles. Parking is readily available in large pullouts on both sides of the road.
As a hiking destination, Lost Grove doesn't really have a lot to see; the best trees are right by the side of the road. There is, however, a short section of trail through the old-growth that can be explored in a few minutes.
The most impressive trees are on the uphill side of the Generals' Highway, where a cluster of mammoth trees stands just behind a fence. Dwight Willard's book says that this part of the grove has a trail, but in fact there's no sign of any official trail on this side. It's possible that the trail was fenced off to prevent all the foot traffic from damaging the sequoias. In any case, even without any trail there are almost always people wandering around in the upper grove. The groundcover on the uphill side has been completely worn away and the ground has the dusty, compacted look that comes with excessive foot traffic.
On the other side of the road, there's a trail to Dorst Creek Campground that starts next to the restroom and leads steeply downhill into the grove. The grove is lush and dense and is densely populated with sequoias, many of them large. After passing a few big trees, the trail soon bottoms out at a sequoia-lined creekbed. To the right, there's a nice view of a relatively open area along the creek dotted with light-colored sequoias. The creek crossing is the turnaround point for this hike.
---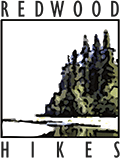 © 2012 David Baselt