★
North Grove
---
Length 1.9 mi · Climbing 390 ft
Hidden down the hill behind Grant Grove, accessed by a dirt road from the overflow parking lot, is the North Grove Trail. There are only a dozen or so big sequoias on the trail, and the trail is actually a dusty dirt road, making the hike less enjoyable than it would be on a singletrack trail, although in recent years parts of the dirt road have narrowed to a singletrack trail. On the other hand the trail is a lot quieter than the Grant Grove loops, making it easier to appreciate the grove; on an busy day you might pass a group of hikers every 5 or 10 minutes.
The sequoias in this area are a lot more widely scattered than they are in Grant Grove, and they are mostly concentrated in a quarter-mile section of the trail.
Start from the end of the Grant Grove overflow parking lot, which is just past the main trailhead. The road, with disintegrating pavement, descends from the lot. Turn right onto the first dirt road and continue descending through a pine forest. There aren't any sequoias at first and the woods have a somewhat arid look, but the scenery soon improves as the trail switchbacks into a little gully with a layer of green groundcover and some pretty impressive sequoias.
The big sequoias end when the trail reaches its lowest point. As the trail loops back it starts to climb through woods that have recently burned in a forest fire; only the woods on the right side of the trail have burned. All the smaller trees are now standing, blackened trunks, but the sequoias are still OK. As a result the sequoias in the distance, which used to be hidden by all the smaller trees, are now clearly visible.
After the trail leaves the burned area, no sequoias are visible until you reach the beginning of the loop.
Related websites

---
---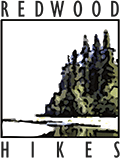 © 2011, 2019 David Baselt