★★★★
Zumwalt Meadow
---
Length 1.5 mi · Climbing 90 ft
Zumwalt Meadow is the most scenic part of the Kings Canyon valley floor. The woods around the meadow are noticeably more lush and green than the woods in the rest of the valley, which is by and large rather sparse and without groundcover. In addition the meadow is at the steepest and most dramatic part of the canyon, situated between two tall, nearly vertical granite cliff faces. A one-and-a-half mile loop circles the meadow and is one of the more popular trails in the park.
Starting at the parking lot, where there's a picturesque view of the broad Kings River with huge cliffs rising above it, follow the trail along the river to a large suspension footbridge. The river below is deep, clear, and fast-moving. Turn left and continue through the woods briefly to reach the Zumwalt Meadow loop.
Going right, the trail undulates over a rocky slope at the foot of the immense cliffs. Typically for Sequoia and Kings Canyon, the trail climbs the slope by way of steps made of small blocks of stone.
Finally the trail descends to the meadow, which is the best part of the loop. The trail runs near the river for a stretch, offering some superb views canyon. The last bit of the trail is a boardwalk with some especially scenic views of the meadow with the cliffs rising above it.
If you just want a short hike, just go from the parking lot to the end of the boardwalk and back.
For a longer hike, explore more of the trail on the south side of the river anywhere between Roaring River Falls and the Bubbs Creek Trail. Although not as scenic as the Zumwalt Meadow Trail, it's still one of the most enjoyable parts of the park. The trail is far enough from the road that you don't notice the cars, and it gets very few visitors - even on a major summer holiday you might see only one person every few hours. It's kind of nice to take a break from the big climbs and just meander through the woods in this scenic Sierra valley, enjoying glimpses of the river and the tall canyon walls. The trail on the north side of the river isn't nearly as enjoyable. It runs very close to the road, and it's faint and somewhat rough. It is kind of interesting to see the piles of huge boulders at the base of the cliffs, though.
Related websites

---
---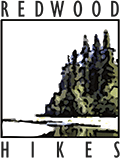 © 2012 David Baselt