This site covers most old-growth giant sequoia groves with publicly-accessible trails. Some nearby non-sequoia hikes are also covered.
Sequoias are found in 67 small groves, about 40 of which are in old growth condition; the largest grove is about six square miles. The groves occur in sheltered folds and shallow basins about halfway up the western slope of the Sierra Nevada, mostly in and around Sequoia National Park.
The sequoias' strikingly massive, stout trunks are an arresting sight, often elegantly fluted and with an appealing light tan or salmon color that seems to glow against the dark foliage and grey trunks of the other trees around it. The canopy is usually open enough that the exceptional height of the trees can be fully appreciated. But the big trees are widely scattered, usually growing as individuals or in small groups, so the forest as a whole tends to look rather mundane — like an ordinary Sierra pine forest studded with the occasional huge tree.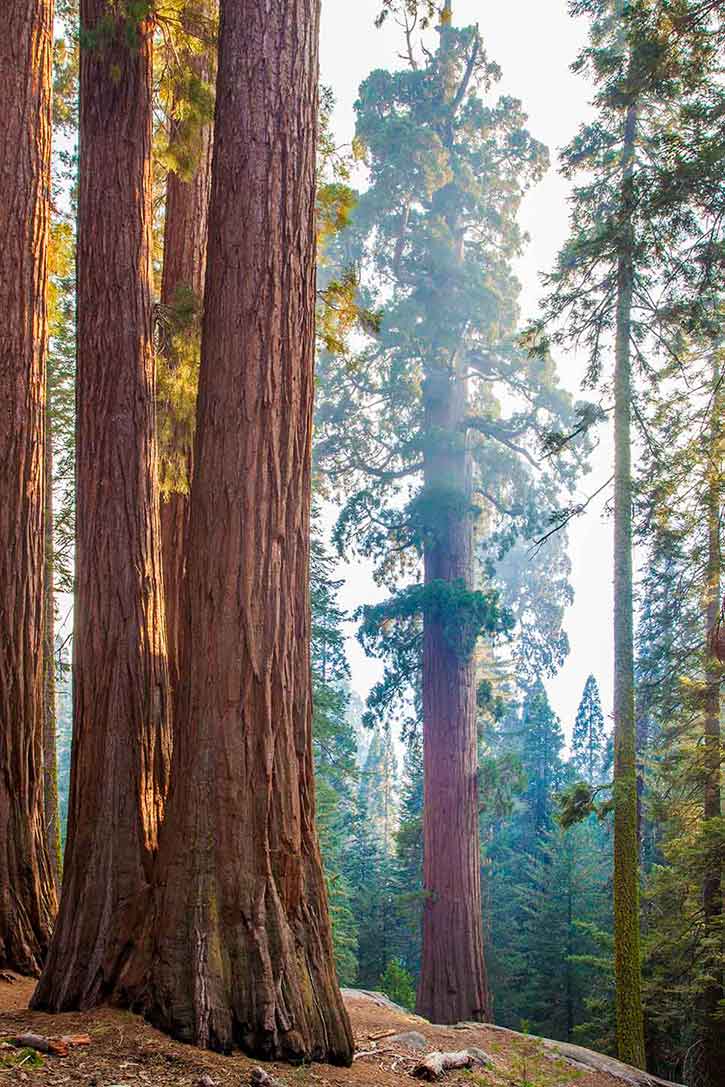 Walking among sequoias feels much different than coast redwoods. Redwoods envelop you with a welcoming, orderly garden-like appearance, lush green walls of redwood foliage, and redwood-needle-covered paths. Giant sequoia forests are less attractive overall, but there's a thrill at encountering the massive trees that you don't get in the redwood forest. Overall, it's hard to choose a favorite.
The higher-elevation groves are usually the most scenic, since they tend to be more open. These groves often have a stark, otherworldly appearance, with little or no groundcover. Lower-elevation groves are more densely wooded and lush, so the understory tends to block the views.
Depite being in the Sierra Nevada, the groves don't actually look that mountainous. You have to go to the high country to get real mountain scenery. But the groves do get a lot of snow, so the trails can only be hiked between June and October, and June and July can sometimes be extremely buggy.
List of giant sequoia trails


---
Key to table colors
Park names
Old growth sequoia hikes
Other hikes