★
Shady Dell
---
Length 0.5 mi · Climbing 250 ft
The Shady Dell property, right next to Usal Beach Campground, includes a small but rather bizarre-looking hillside grove with some impressively reiterated old-growth redwoods. The vertical "branches" of these trees are actually secondary (reiterated) trunks. The grove also has some smaller redwoods, but all the big redwoods are extensively reiterated, and there aren't any signs of logging. The twisted trees only survive today because they wouldn't make very good lumber.
The reiterated trees are all lined up along a ridge; more than a few yards on either side of the ridge, there are only regular trees. The trail follows the ridge, climbing quite steeply on several flights of stairs.
Lots of groves contain reiterated redwoods, but Shady Dell's are, as far as I know, the most extreme examples. Maybe it's because the steep hillside shelters the redwoods from just enough of the salt spray. Interestingly, there's a grove of perfectly normal, straight and tall second-growth redwoods in a more sheltered environment just a short distance away, along the Hotel Gulch Trail. Personally I think the normal redwoods are more attractive, but Shady Dell is worth a visit if you're staying at the campground.
Getting to the trailhead requires a six-mile drive on a steep, bumpy, single-lane dirt road; the drive isn't advisable when the road is wet.
Start at the pullout just south of the bridge on Usal Road. The trail soon enters the rather odd-looking redwood grove, climbing steeply by way of steps past several large candelabra redwoods.
The trail reaches a bench next to what is perhaps the grove's largest redwood. After this point the redwoods start to peter out. Continue up the singletrack trail until it ends at an old, level dirt road. The recommended hike ends here; however, the Coastal Trail continues to climb for a few more miles through dense but ordinary woodland, rejoining Usal Road at the south boundary of the property. There's a nice view of the coast just before the second and last crossing of Usal Road, but otherwise the trail is much less interesting than the candlelabra grove.
---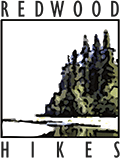 © 2017, 2022 David Baselt