★
The Wheeler Trail
---
Length 8.9 mi · Climbing 1850 ft
The Wheeler Trail is an old logging road that descends from Usal Road to Wheeler Camp, at about the midway point of the Sinkyone Wilderness's long and challenging segment of the Lost Coast Trail. The trail itself is nothing special and is mainly used as an easy way to get to the remote beach at Wheeler Camp.
The Wheeler Trail is also the only trail to pass by the Sally Bell Grove, which was one of the last significant stands of old-growth redwoods to be saved from logging. Unfortunately, the trail only brushes past the tip of the grove, so only about a half-dozen medium-sized redwoods can be seen; you might miss them if you're not looking carefully.
The trailhead is about four miles north of Usal Camp on bumpy Usal Road. Before 2013 the road was heavily rutted and a high-clearance vehicle was necessary to reach the trailhead. However, the road has been greatly improved and is now closed in the winter to prevent it from being damaged again. It is now only slightly rougher than the road to Usal Camp, with ruts that are only about 3 inches deep, and in the summer it should be drivable by most cars.
The full 10-mile drive from Highway 1 to the trailhead takes about 45 minutes. Continue past a dirt cul-de-sac on your left and park at the first gated dirt road on your left. The trail is not marked.
The Wheeler Trail descends through mundane and rather dry-looking tanoak and Douglas-Fir forest. Pass by an unmarked trail to your left; this is the Hotel Gulch Trail, which leads back to Usal Camp.
A single medium-sized redwood by the side of the road is the only part of the Sally Bell Grove that is clearly visible. A mile or so further down there are several other redwoods that might be old growth, but these appear to be in a logged area. The redwood forest consists of medium-sized redwoods on steep and rather arid-looking slopes, with lots of tanoak.
As the trail approaches the bottom of the hill, the woods gradually become more lush and attractive and the wide dirt road gradually becomes narrower, changing into a singletrack trail. When the trail ends at the Lost Coast Trail, it's an easy and pleasant walk to the beach.
Links

---
---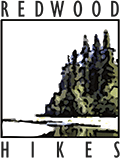 © 2017 David Baselt