Castle Rock is an immensely popular park. Maybe half of the park's visitors are rock climbers, carrying big pads and other equipment, here to climb the large craggy tufa formations. The other half are hikers here to see the waterfall, although in summer it's only a trickle, and the magnificent panoramic view of the San Lorenzo River Valley from one of the highest spots in the Santa Cruz Mountains, with the fog-shrouded Pacific Ocean in the distance.
Castle Rock doesn't have a whole lot of good hikes; a lot of people seem to come here just to find a spot to sit and enjoy the view. Much of the park is covered with tanoak-dominated woods that are dry-looking and not especially interesting. What's more, the sound of gunfire makes it hard to enjoy a walk in many areas.
The gunfire comes from the Los Altos Rod and Gun Club, which is open to the public from 9 to 4 Thursday through Sunday. The nonstop sound of guns from this range disrupts the peacefulness of almost all hiking trails in the South Skyline region, as far north as Russian Ridge Open Space Preserve (above Palo Alto) and as far west as Memorial County Park. The Castle Rock campgrounds are especially badly affected during shooting hours.
Castle Rock has quite a bit of poison oak.
Hikes

---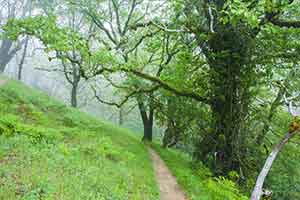 ★
Saratoga Gap and Ridge Trail
Length 4.8 mi · Climbing 1010 ft
A loop hike combining the park's most popular features: a waterfall, tufa formations, and spectacular views over the Santa Cruz Mountains.
Campgrounds

---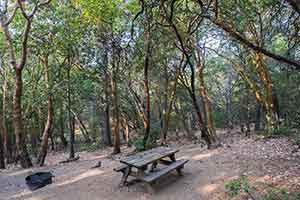 ★★
Castle Rock Trail Camp
Open all year · $15/night
Castle Rock's popular trail camp, the largest in the Santa Cruz Mountains, is on a wooded ridge a two and a half mile hike from the park's main entrance.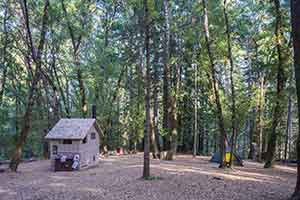 ★★
Waterman Gap Trail Camp
Open all year · $15/night
Waterman Gap, the normal first-night stop on the Skyline-to-the-Sea Trail, is on a wooded ridgetop that unfortunately gets traffic noise from Highway 9.