★★★
Coyote Valley Open Space Preserve
---
Featuring the Arrowhead Loop Trail
This small but scenic park just outside of Morgan Hill mostly consists of very attractive open, oak-dotted foothills with nice views of the rural Coyote Valley. The only hiking route is a well-built singletrack trail that climbs into the hills, making a 4-mile loop through the park. The park is quiet and peaceful, but unlike more remote parks, it's approachable and easy to hike.
At the beginning and end of the hike there's sometimes the very noticable sound of gunfire from Field Sports Park, about three miles to the north, but normally you can't hear it once you get into the hills.
The park is best in the winter or spring when the grass is green and the poppies are blooming; in summer it's not as attractive and can get very hot.
The park opened in 2015 and was little-visited until 2020, but now the parking lot fills up on nice spring weekend mornings and you may have to wait for a spot to open up. However, the loop is currently one way, which actually works pretty well; even at the busiest times you don't see a lot of people on the trail, except for a few bikers or equestrians, or hikers going the wrong way.
Start at the parking lot at the end of Palm Drive. The trail starts out as a ranch road in the flatlands at the edge of the Coyote Valley. Turn left onto the purpose-built singletrack, which starts to contour up into the hills, offering views of the broad valley below. The trail climbs insistently and for a surprisingly long time given how small the park is. Some power lines run along the ridge at the edge of the park, but otherwise the area is wonderfully unspoiled. There are a few picnic tables at the second viewpoint, although the tables themselves don't have much of a view.
The descent isn't as scenic as the climb, but the scenery improves again when the trail reaches the valley floor and joins a ranch road.
---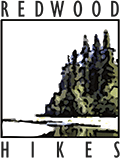 © 2017, 2022 David Baselt