★
Fremont Older Open Space Preserve
Saratoga
---
Fremont Older is an attractive preserve on some low hills just outside Saratoga. Its grassy hills interspersed with stands of eucalyptus trees gives it a unique ranch-like appearance. Fittingly, the park adjoins Garrod Stables, which conducts popular horse tours through the preserve, and as a result the trails in the southern panhandle (the Toyon, Bay View, and Coyote Ridge Trails) are liberally strewn with fresh horse manure. This is a little unfortunate for hikers since Bay View and Coyote Ridge would otherwise be the best trails in the preserve.
Within Garrod Stables is the Cooper-Garrod vineyard, and some of the preserve's trails offer views of the attractive vineyards. Hikers could conceivably combine a hike in the preserve with some wine tasting, but it's a bit more pleasant to drive to the vineyard than it is to walk in through the stables.
Mountain biking is allowed and very popular in Fremont Older. Most of the trails are wide dirt roads with plenty of room for bikers and hikers to share the road.
The hike described below is a short but scenic walk to Hunter's Point. The hike climbs first through pleasant woods, then over an open grassy ridgetop, to reach a knoll with some nice views over the South Bay. This is the park's most popular hike, and on a nice weekend you might encounter 2 or 3 groups a minute on the trail.
For a longer hike, Maisie's Peak is the best option. If you're not averse to horse manure, continue on from there to hike a loop on the Coyote Peak and Bay View trails. The Toyon Trail, though singletrack, is less attractive.
The little parking lot at the end of Prospect Road was recently covered by netting to protect the cars from errant golf balls. The lot is usually full. Spaces open up frequently, but often it's easier to park a quarter-mile down the road at the intersection with Rolling Hills Road.
Hunter's Point is easy to find: at every intersection, just keep climbing. Start on the Cora Older Trail, which climbs through attractive woods before breaking out into open grasslands. Turn right, then in just a few yards, turn left onto the dirt road, which climbs to a scenic ridge. In another few yards, turn right again onto the Hayfield Trail. The sound of gunfire sometimes drifts over from the Sunnyvale Rod and Gun Club. It's a short climb to Hunters Point, where there's usually a little clump of visitors admiring the pretty view of the South Bay suburbs.
More information

---
---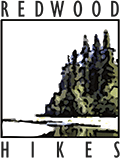 © 2010, 2017 David Baselt
Re-hiked 2022; no changes