★
The John Nicholas Trail
Sanborn County Park
---
Length 7.8 mi · Climbing 1530 ft
The John Nicholas Trail is mainly intended and mostly used for biking. The trail is unusually wide, with a shallow 7% gradient and a smooth surface. Over the years high banks have been formed on a few curves. The trail is very popular with cyclists and is the most-used trail in Sanborn County Park.
As a hiking destination the trail is a little dull, but it can be combined with the first half of the Todd Creek Redwoods hike for a more interesting 9-mile loop. The only problem is that you have to close the loop by walking for a mile on Sanborn Road, which is narrow and doesn't have any shoulder but at least isn't especially busy.
Start at the end of Sanborn Road. The park map has a no parking symbol here, but in fact there are two small pullouts where you can park. Just uphill from the pullouts, the trail starts out as a steep dirt road that climbs through a heavily-wooded canyon. The trail levels out at Lake Ranch Reservoir, a picturesque little lake surrounded by wooded hills. There are a few picnic tables by the lake.
Continue straight ahead to the John Nicholas Trail. The trail gets off to a great start, running through lush canyon-bottom woods along a little creek. Soon, though, the trail climbs out of the canyon and the woods become a little less interesting.
At lower elevations the trail passes through mundane fir and bay laurel woods with a few spruce groves. The scenery starts to improve as some madrone trees appear, their distinctive peeling bark revealing gold branches. As the trail approaches Skyline Ridge, the woods noticably lusher and more attractive. At one point there*rsquo;s a large rock formation right next to the trail. Near the end is a viewpoint with some benches, the only scenic view in the park. The view of the South Bay is restricted by trees but is still pretty nice; Mount Diablo and Oakland are clearly visible.
More information

---
---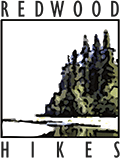 © 2015, 2020 David Baselt