With about 500,000 visitors a year, Rancho San Antonio is just a ridiculously popular park. On a nice summer day, you might have to wait in a line of cars for 20 minutes to get a parking spot. The main road to Deer Hollow Farm is a continuous stream of people, and even on the challenging 8-mile PG&E Trail you can expect to meet a group of hikers or joggers every 1 or 2 minutes. So this might not be the best place for a quiet getaway, but the crowds and the wide, well-maintained trails do help to make the park feel safer and more family-oriented than other nearby parks.
It's easy to see why the park is so popular: it's just a few minutes' drive from most of Silicon Valley and it's quite scenic, with a mixture of woodland, open grassland, and some very nice panoramic views of the Bay Area. The park is large and well isolated from the nearby suburban neighborhoods, so it offers a real escape from the city without the hassle of a long drive. It's also free. To be sure, there are parks on the other side of Skyline Ridge that have even better scenery and are much less crowded, but they all require about an hour of driving each way and most of them aren't free.
Even though it's partly wooded, Rancho San Antonio, like most area parks, gets really hot and unpleasant if the forecast high for the day is above 85 degrees.
Hikes

---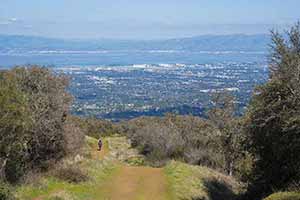 ★★★
Black Mountain Trail
Length 9.2 mi · Climbing 2420 ft
One of the most challenging climbs on the peninsula, the Black Mountain Trail offers some great views of the South Bay.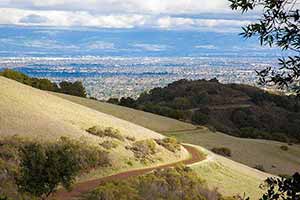 ★
Stephen E. Abbors (PG&E) Trail
Length 8.8 mi · Climbing 1600 ft
A very popular loop hike on a power line service road that offers some nice views and a good workout.