★
Russian Ridge Open Space Preserve
---
Skyline Ridge
Featuring an open ridgetop with panoramic views of the Santa Cruz Mountains, Russian Ridge offers the best hiking of all the preserves atop Skyline Ridge. Even though the other parks, like Skyline Ridge, are actually more scenic, Russian Ridge is better overall because it's the least affected by the sound of gunfire. The park also feels less developed and offers longer hikes than the other parks.
The park is quite popular; on a nice weekend afternoon the parking lot overflows, and the main trail out of the parking lot gets about 3 or 4 groups of hikers per minute. Past Borel Hill the trails aren't quite as busy.
The recommended loop hike mostly runs through open grasslands, although there's a nice wooded stretch near the end.
Park in the main lot off Skyline Boulevard and take the singletrack trail that climbs up to the nearby ridgetop. At first there aren't any views, and there's some traffic noise and the sound of gunfire, but as the trail nears Borel Hill the noise fades away and the views start to open up.
Borel Hill is just a little lump in the ridge; it's low and gently sloping so it doesn't offer any really exceptional views.
Take the singletrack Ridge Trail that splits off from the road at Borel Hill. The trail offers the most sweeping views of the hike as it contours along an escarpment, then descends to a saddle across from a Caltrans vista point. Continue along the road as it climbs away from the saddle, overlooking Mindego Hill.
Turn left onto the singletrack Hawk Ridge Trail, which gradually descends to another dirt road, the Alder Spring Trail. This trail winds through meadows and passes through two wooded ravines before entering a more extensively-wooded area.
The Ancient Oaks Trail climbs through woods and open meadows along a minor ridge that does, in fact, have a few pretty substantial trees. This is one of the best parts of the hike.
The Bo Gimbal Trail climbs gently through a dense, shady bay laurel grove in a wide, shallow ravine. It soon emerges onto the meadows near Borel Hill. Return to the parking lot on the busy Ridge Trail.
Links

---
BayNature has an article about the ancient oaks.
---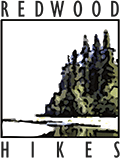 © 2017, 2022 David Baselt