Located in the scenic green hills above Saratoga, Sanborn is a fully developed and very popular park. The park's centerpiece is a large, attractive lawn, a perfect spot for a summer barbeque, but there are also tent and RV campgrounds, a nature center, and outdoor Shakespeare performances. A network of trails climbs the wooded hillside; adventurous hikers can hike from here to the Pacific Ocean without ever leaving the trail. For the most part the woods aren't especially scenic, but they include a few second-growth redwood groves, an unusual sight in this area.
A mile from the main developed area, at the beginning of the John Nicholas Trail, is Lake Ranch Reservoir, a pleasant little pond surrounded by wooded hills. Softly quacking ducks paddle around, frogs hop into the water as you pass, and an egret stands guard over it all. It's about a half-mile uphill hike to reach the reservoir, so the location is usually pretty quiet.
There's a $6 parking fee, but it may be possible to park near the Welch–Hurst House for free.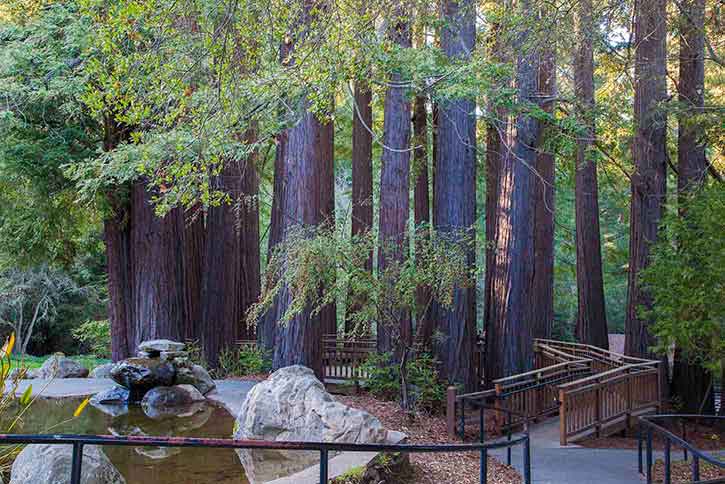 Hikes

---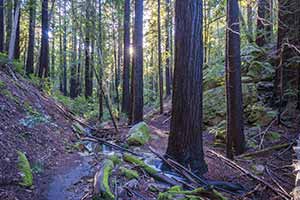 ★
The Todd Creek Redwoods
Length 5.9 mi · Climbing 1570 ft
A hike to Skyline Ridge that passes through a small but interesting high-elevation redwood grove. There's also another, more mundane redwood grove near the beginning of the trail.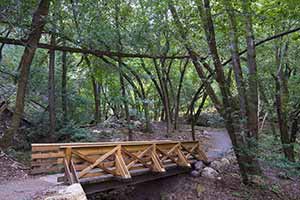 ★
John Nicholas Trail
Length 7.8 mi · Climbing 1530 ft
The John Nicholas Trail is the newest of the trails that climbs Skyline Ridge. The wide trail with its shallow gradient and lots of switchbacks was designed mainly for mountain biking.
Campground

---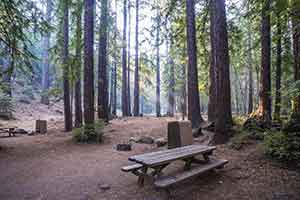 ★★
Sanborn Park Campground
Walk-in sites Apr–Oct · $18/night
RV sites open all year · $44/night
Set in a large glen among the green foothills of Skyline Ridge, Sanborn County Park has a walk-in campground under second-growth redwoods, plus an RV campground on the park's large, sunny picnic lawn.