Sanborn's campground is remarkably secluded given that it's just a 10-minute drive from the suburban Bay Area. Set in a large glen among the green foothills of Skyline Ridge, the campground is well-isolated from any sign of development, traffic noise, and even from the cell service of the nearby metropolis.
The walk-in campground is in a shady ravine filled with small second-growth redwoods. The woods are somewhat dry and scraggly-looking compared with the lusher, more attractive redwood groves on the other side of Skyline Ridge.
Sanborn has the longest walk-in of any walk-in campground in the Santa Cruz Mountains. You'll have to lug your stuff between 300 yards and half a mile, with a steep uphill climb of 20 to 250 feet. It helps that there's usually a bunch of big plastic wheelbarrows in the parking lot.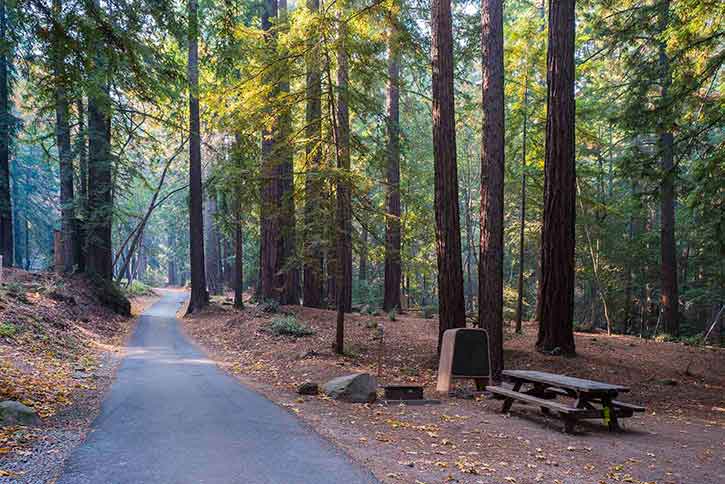 The campground as a whole doesn't feel crowded. However, the campsites are clustered together in small groups without any understory vegetation to screen them from each other, so they don't offer a lot of privacy either.
Unusually for a redwood park, Sanborn also has an RV campground with hookups, located at the upper end of the large open lawn. It can accomodate RVs up to 30 feet. If you have an RV, it's a pretty nice place to stay. You're not allowed to pitch a tent at the RV campground; there wouldn't be enough space.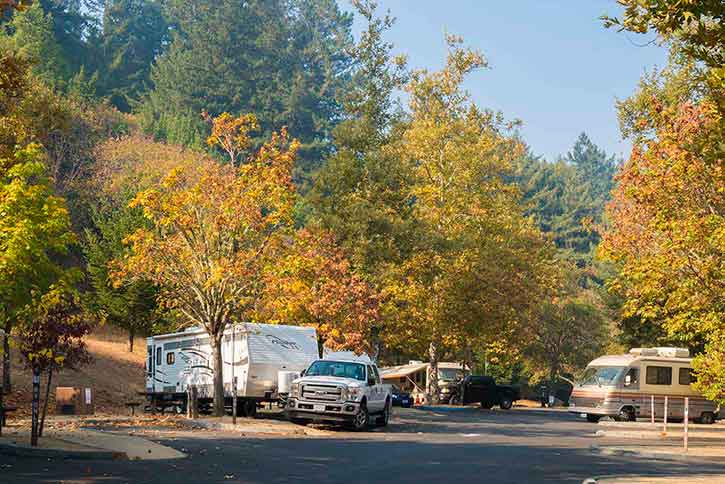 The only showers are next to the RV sites, and there's no camp store. Just downhill from the campground is a stage where open-air performances of "Silicon Valley Shakespeare" are held every summer.