★★
The Crystal Springs Regional Trail
Sawyer Camp Segment
---
Length 6.0 mi one way · Climbing 640 ft
The Crystal Springs Regional Trail is one of the most popular trails on the Peninsula. The paved, level trail runs through the quiet, partially-wooded hills alongside Crystal Springs Reservoir for 6 miles and is especially popular with joggers and cyclists. At peak times there are usually about 2–4 groups per minute on the trail.
The trail is mostly in the open sunshine, with about a third shaded. It's generally very peaceful, although there's a little traffic noise in a few spots from Highway 280. There are some nice views of the immensely scenic reservoir at the south end, but after the first half-mile the views are mostly screened by trees and shrubs, with just occasional glimpses of the reservoir. The entire trail is fenced in with chain-link fences, although they're pretty unobtrusive.
Start at the south end of the trail, at the intersection of Skyline Blvd and Crystal Springs Road. Usually it's not too difficult to find parking, although it gets busier throughout the day.
The trail gets off to a great start, with some exceptionally scenic views of the reservoir backed by green conifer-clad hills. This is by far the most scenic part of the entire walk. Not surprisingly, the south end of the trail is also the most popular part. The water views start to drop off after the first bend in the trail, and the trail becomes much less busy after the bathroom about three-quarters of a mile in.
The traffic noise from Highway 280 is quickly left behind as the trail winds through patchy oak woodland.
The Jepson Laurel Area is a flat where the area between the fences widens a bit. Some pretty good-sized bay laurel trees shade the trail. There's a pit toilet and a bunch of benches, making this a popular stopping point. There's also a little side trail leading to a somewhat hidden big laurel tree, the Jepson Laurel.
There's a long wooded stretch after the Jepson Laurel Area: with the warm, sunny reservoir shore left behind, the woods are much denser, the trail cooler and shadier. There's some traffic noise from Highway 280 in this area, but on the other hand there are fewer people on the trail.
The trail starts to get busier as it straightens out and begins to climb a little. Eventually it reaches the top of a dam, where it breaks out of the woods. There are some nice views of the upper reservoir and the valley below as the trail crosses the dam, then the trail climbs through patchy oak woodlands to the northern trailhead. The Crystal Springs Trail continues to the north, but because it runs right next to Highway 280 and Skyline Blvd it's not as pleasant after this point.
---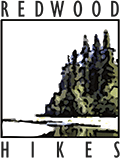 © 2017, 2020 David Baselt