★
The Skyline Trail
San Mateo County Parks
---
Length 11.1 mi · Climbing 1030 ft
Background

---
This long but relatively easy trail on California Water Service Company property joins Huddart and Wunderlich County Parks. It mainly seems to be used by joggers combining the trails in the two parks. The most interesting part of the trail is a little-known little patch of upland old-growth redwoods about two miles in.
The trail gets some traffic noise because much of it runs just below Skyline Boulevard. However, it's still enjoyable since the woods are less affected by logging than in nearby parks and the trail is purpose-built singletrack rather than an old logging road. For hikers the main disadvantage of this trail is that there aren't any loop options: except for the two ends and the recently-opened Molder Trail at mile 4.5, there are no cross-trails and no way to access Skyline Boulevard.
The trail is almost entirely wooded.
Here's the trailhead location in Google Maps and Google Street View.
Parking is available in a few pullouts on Kings Mountain Road near the trailhead. The trail starts by contouring along a steep second-growth redwood-covered hillside above Squealer Gulch. The trail soon leaves both the gulch and the redwoods behind and crosses over to Bear Gulch.
At first, the scenery in Bear Gulch isn't anything special, but it gradually improves as the trail climbs over the next few miles. The trail passes through dense tanoak and other wooded areas as well as and two short brushy sections under overhead power lines. The trail then crosses though an area of heavily-logged redwoods before entering the unlogged old-growth redwood grove. From this point on the scenery becomes a lot more interesting.
The trail passes through two old-growth groves in neighboring shallow ravines. The first grove is small and densely wooded. The second is larger, more open, and more scenic. The biggest redwoods are only about 5 feet in diameter, but they're clearly bigger and more varied in size than the second-growth redwoods before and after the grove. The old-growth redwoods also have the distinctive light color of old growth, and some of them have have deep "goosepen" openings caused by repeated fires over a long period of time. The redwoods grow on a steep hillside that at one point is quite open.
The redwoods come to an end as the trail contours out of the gully, but the forest remains old-growth and quite scenic for a few more miles. Cars occasionally whoosh by on Skyline Boulevard.
Near the end of the trail, a few houses appear and the woods change to second-growth redwoods. The trail switchbacks downhill to avoid a privately-owned parcel, then climbs again, crossing a driveway, to reach the boundary of Wunderlich County Park.
---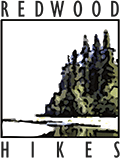 © 2017 David Baselt