★
The Taber Nature Trail
---
Length 1.7 miles · Climbing 130 ft
The Taber Nature Trail is a short, pleasant trail that climbs to a plateau with a small redwood grove. The redwoods apparently haven't been logged, but it seems that the grove been logged of other trees, leaving about ten or twenty medium stumps. The regenerating forest has a somewhat odd appearance, with lots of really small fir and tanoak trees growing among a few dozen widely-scattered, small-to-medium redwoods. Many of the redwoods are blackened and the grove is somewhat dry-looking, with little groundcover except for some mounds of huckleberry bushes alongside the trail.
The trailhead is a little hard to find. Driving north on Highway 101, just after Leggett you'll see the entrance to Standish-Hickey on your left. Ignore this entrance and continue a few more yards. Just after passing the Peg House and the old shuttered gas station, turn onto the second dirt road to your right. The road isn't marked and is partly hidden by some trees. Once you turn onto the road, there's a well-marked trailhead and a small dirt parking lot. There's no fee to park here.
There's quite a bit of traffic noise from Highway 101 as the trail sets out. A bit of trail near the beginning can get overgrown, but otherwise the trail is clear and very well-maintained. The trail enters a tanoak wood, winds around a house, and begins a gentle climb. The traffic noise fades out but never completely disappears. The trail follows a little ravine where a few small scattered redwoods grow, then enters the main redwood grove just before the intersection with the loop portion of the trail. There's a relatively dense cluster of redwoods around this intersection. Turn left onto the loop, which winds around a small plateau.
At the north end of the loop, next to the Petronelle Majer memorial sign, is an especially large redwood that actually consists of several trunks fused into one at the ground.
At the end of the loop, turn left to return to the parking area.
Service road

---
Right next to the loop is a dirt service road that's not connected to the trail. The dirt road starts at an employee residence and leads to a water tank. Interestingly, although it's only about ten yards from the trail, the woodland along the dirt road has a lusher and much more normal old-growth redwood upland look than the loop trail, with the arrow-straight trees and healthy groundcover characteristic of old growth.
A few years ago the park added an "Area Closed" sign at the beginning of the service road, so you can no longer walk up the road from the parking lot. However, it's pretty easy to cross over to the service road from the beginning of the loop.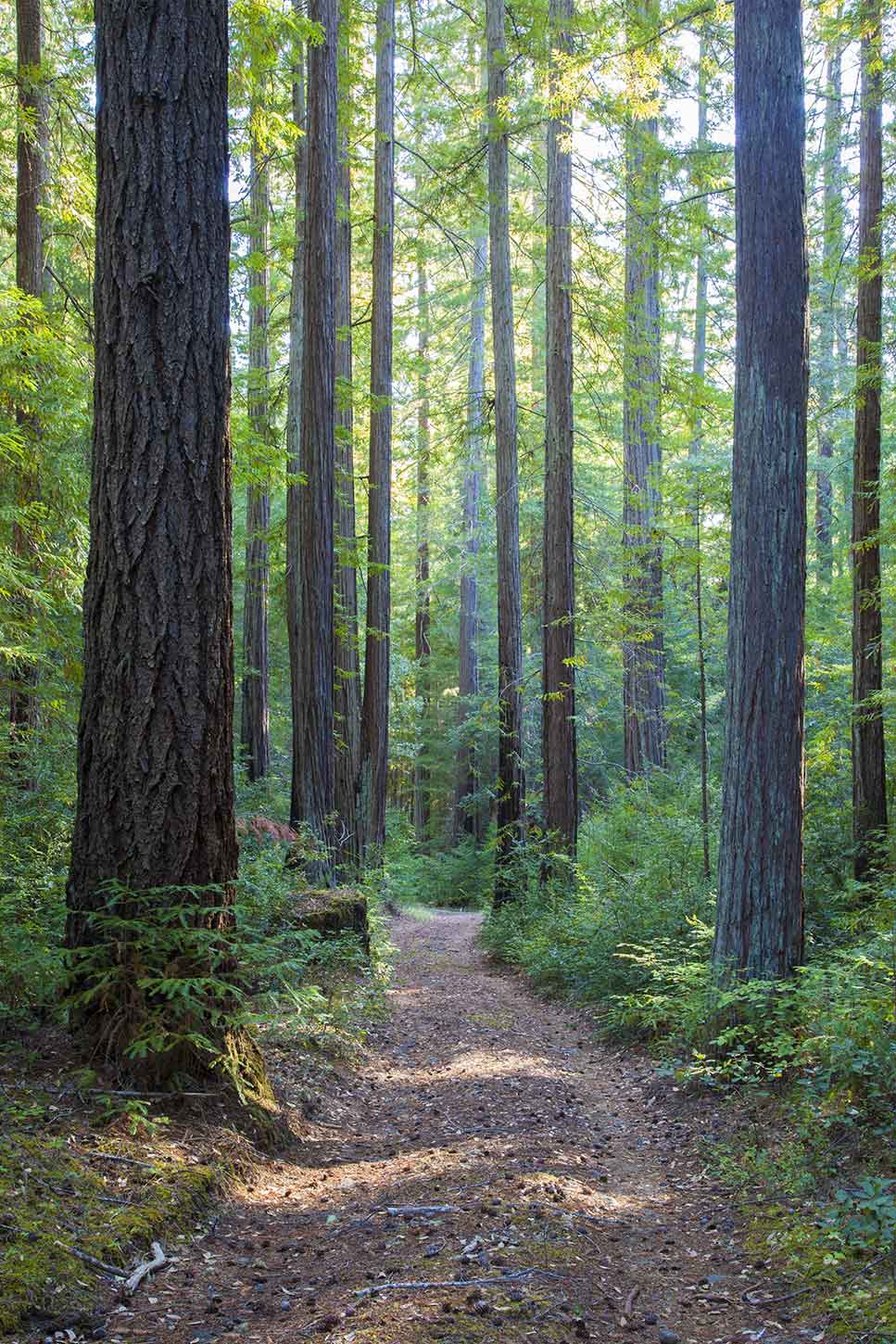 ---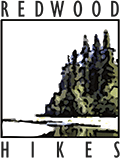 © 2009, 2014, 2017, 2021 David Baselt