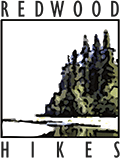 Bay Area Trail Map:
Almaden Valley
First edition, 2022
---
Downloadable version for mobile devices
A 26 x 39 inch zoomable and pannable image with a blue dot that shows your current position. Tracks can be recorded.
Requires the free Avenza Maps app for iOS or Android
---
This topographic trail map shows the Almaden Valley area of San Jose. It includes Sierra Azul Open Space Preserve, Almaden Quicksilver County Park, Santa Teresa County Park, Calero County Park, Rancho Canada del Oro Open Space Preserve, and Coyote Valley Open Space Preserve.
All official hiking trails were drawn from newly-acquired GPS data with a resolution of about 100 feet. Memorial grove markers, footbridges, panoramic viewpoints, and stairs are shown. Most roads are shown and labeled. In addition, unofficial trails and dirt roads are shown and are greyed out to distinguish them from official hiking trails. We don't recommend that you use these trails, but if you accidentally wander onto one, having it on the map will help you get back on track.
Wooded areas are indicated in green, old-growth redwoods in dark green, developed areas in grey, and 40 foot contour lines are shown. Trail distances are marked and a UTM grid is provided to help with GPS navigation.
The map is only available as a digital download for Avenza Maps; it's not available in printed form.