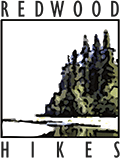 Bay Area Trail Map: Skyline Ridge
Third edition, 2017
---
Waterproof printed version
A full-color, double-sided, 26 x 39″ map printed on durable waterproof plastic at 1:25,000 scale
Click below to buy with credit card or PayPal
$10.95 each
Please allow 3–5 business days for delivery
---
Downloadable version for mobile devices
Includes both sides of the printed map combined into a single 57 x 45″ image. A blue dot shows your current position, and tracks can be recorded.
Requires the free Avenza Maps app for iOS or Android
---
This two-sided map covers in detail the many regional parks in the hills above Woodside, Palo Alto, Portola Valley, Los Altos, and Cupertino. Besides full coverage of hiking trails, nearly all local roads are shown so that hikers can find their way to all available trailheads. For example, the map shows back entrances to Rancho San Antonio County Park that aren't shown on the official map. It also shows how the trails of neighboring parks connect to each other, making it much easier to plan (for example) a hike from Palo Alto to Skyline Ridge that crosses through Arastradero, Foothills, Los Trancos, and Skyline Ridge preserves.
All official hiking trails were drawn from newly-acquired GPS data with a resolution of about 250 feet. Trail mileages are marked and most streets are labeled. To help you keep track of your location, the map shows the locations of memorial grove markers, footbridges, panoramic viewpoints, and stairs.
Unofficial trails and dirt roads are shown and are greyed out to distinguish them from official hiking trails. We don't recommend that you use these trails, but if you accidentally wander onto one, having it on the map will help you get back on track.
Areas of old-growth redwoods are shaded in dark green, and a UTM grid is provided to help with GPS navigation.
For the 3rd edition, the map has been printed on waterproof plastic for the first time. In addition, the trails were updated with new, more accurate GPS data. The new Mindego Hill Trail in Russian Ridge is shown, as are the recently-numbered intersections and new trail names in the San Mateo County parks. Wooded and developed areas have been redrawn at a higher resolution and the hillshade has been re-rendered to give a better impression of the area's large-scale topography.