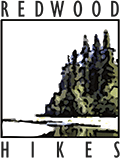 Bay Area Trail Map:
Oakland Hills and Pleasanton Ridge
Second edition, 2019
---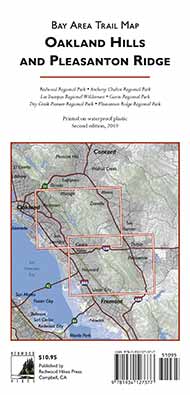 Waterproof printed version
A full-color, double-sided, 26 x 39" map printed on durable waterproof plastic at 1:25,000 scale
Click below to buy with credit card or PayPal
$10.95 each
Please allow 3–5 business days for delivery
---
Downloadable version for mobile devices
Includes both sides of the printed map combined into a single 53 x 48″ image. A blue dot shows your current position, and tracks can be recorded.
Requires the free Avenza Maps app for iOS or Android
---
This is the most comprehensive and useful hiking map of the East Bay. To produce it I've hiked every official trail in the East Bay, most of them multiple times. Unlike online maps generated from government or crowdsourced data, this map shows lesser-known trails, local roads, unofficial trails, and private roads, and it clearly distinguishes between official trails and private or unofficial trails. It replaces dozens of individual park maps with a single map that has a consistent scale and appearance, making it the best tool for planning hikes that span multiple parks.
The Oakland Hills map includes:
Redwood Regional Park
Anthony Chabot Regional Park
Lake Chabot Regional Park
Las Trampas Reginal Wilderness
Bishop Ranch Regional Open Space Preserve
The southern EBMUD watershed
The Pleasanton Ridge map includes:
Garin and Dry Creek Pioneer Regional Parks
Five Canyons Regional Open Space
The Hayward Greenbelt
Dublin Hills Regional Park
Pleasanton Ridge Regional Park
The map is printed on durable waterproof plastic. Unlike some waterproof maps, the ink won't rub off after one or two uses.