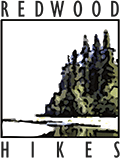 Portola Redwoods and Pescadero Creek
Fourth edition, 2016
---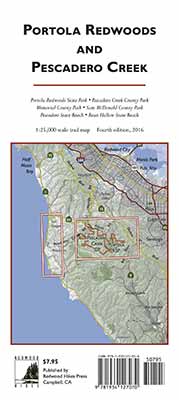 Waterproof printed version
A full-color, double-sided, 18 x 27" map printed on durable waterproof plastic at 1:25,000 scale
Click below to buy with credit card or PayPal
$7.95 each
Please allow 3–5 business days for delivery
---
Downloadable version for mobile devices
The downloadable version of the Big Basin and Castle Rock map includes Portola Redwoods and Pescadero Creek.
Requires the free Avenza Maps app for iOS or Android
---
This map shows the interconnected trail systems of Portola and Pescadero parks on a single sheet. The entire Pescadero park complex including Sam McDonald County Park, Memorial County Park, and Heritage Grove are shown, and the trail connections to nearby parks on Skyline Ridge are also shown. The back of the map has 1:12,500 scale enlargements of Sam McDonald, Memorial, and the Portola State Parks. Newly added for the third edition is a map of five state beaches from Pigeon Point to San Gregorio, all of which are a short drive from Memorial County Park.
All official trails and dirt roads were drawn from GPS data with a resolution of about 100 feet. The map is annotated with the locations of memorial grove markers, footbridges, panoramic viewpoints, and stairs, and trail mileages are marked. Since you can often walk for miles without seeing a trail marker, these annotations are useful for helping you keep track of your location.
Unofficial trails and roads that don't appear on the official park map are also shown. I don't recommend that you use these trails, but if you accidently wander onto one, having it on the map will help you get back on track.
The fourth edition shows the recent changes to Pescadero Creek and Sam McDonald County Parks: many trail names have changed and the intersections have been numbered with new signposts. Also, the map is now printed on tear-resistant waterproof plastic.