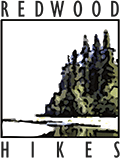 Sinkyone Wilderness
State Park
First edition, 2017
---
Downloadable version for mobile devices
A 26 x 39 inch zoomable and pannable image with a blue dot that shows your current position. Tracks can be recorded.
Requires the free Avenza Maps app for iOS or Android
---
This topographic trail map is the most detailed map of Sinkyone Wilderness available for purchase. The remote Lost Coast Trail is often faint and overgrown, so it's especially reassuring to have a detailed, GPS-enabled map to help show you that you're still on the trail.
The map shows the main body of the park as well as both the north and south access roads, including the Lost Coast Trail, Usal Beach Campground, and the Needle Rock area. It was drawn at a size of 26 x 39 inches and a scale of 1:25,000.
This map is only available as a digital download for Avenza Maps; there's no printed map.