Located in a lush redwood-filled gorge between Marin County's suburbs and Point Reyes, Samuel P. Taylor State Park offers a day use (picnic) area and drive-in camping. The wide and level Cross Marin Trail makes for easy cycling under second-growth redwoods, while more challenging trails climb the grassy hilltops above the valley to nice views of the Marin countryside.
Busy Sir Francis Drake Boulevard passes through the gorge, and the campsites, picnic areas, and the Cross-Marin Trail all get nearly constant noise from cars roaring by on their way to Point Reyes and the West Marin towns. Even so, Samuel P. Taylor is still one of the more scenic and enjoyable parks in Marin.
Old-growth redwood hikes

---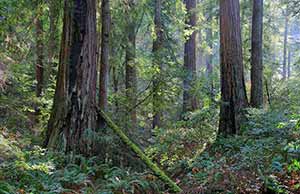 ★
Pioneer Tree Trail
Length 2.7 mi · Climbing 190 ft
A short, easy walk to the park's only old-growth redwoods, a tiny but surprisingly nice grove in a small canyon. The actual Pioneer Tree fell in 2022.
Other hikes

---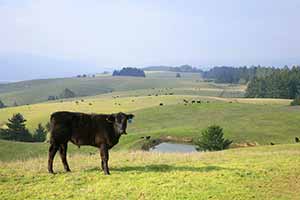 ★★
Bolinas Ridge
Length 10.6 mi · Climbing 1200 ft
On this amazingly scenic loop, you'll leave the state park and amble through hilltop cow pastures with sweeping views over the rolling grasslands of the Olema Valley.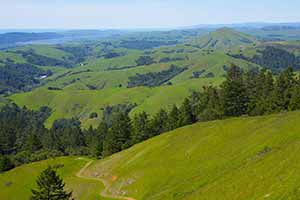 ★★
Barnabe Peak
Length 5.8 mi · Climbing 1340 ft
This hike features a steep climb to some really magnificent views of the San Geronimo Valley and its surroundings.
Drive-in campgrounds

---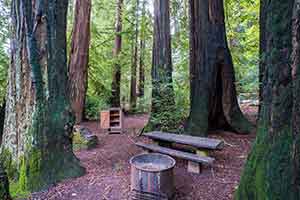 ★★
Camp Taylor
$35/night · Open all year
A drive-in tent campground at the bottom of a deep, shady gorge filled with lush second-growth redwoods, alongside Lagunitas Creek and Sir Francis Drake Boulevard. Besides the campsites, the camp also has five cabins.