★★
Merced Grove
---
Length 3.6 mi · Climbing 500 ft
Merced Grove is a very small sequoia grove near Yosemite's Big Oak Flat entrance. It's near the Tuolumne Grove but isn't as popular.
An interpretive sign at the trailhead is seemingly intended to reduce visitors' expectations, saying that the grove is Yosemite's smallest and that it has "about 20 trees". However, although it covers less area, Merced Grove actually has more sequoias than the nearby Tuolumne Grove. What's more, Merced's trees appear bigger and more varied, and its more open understory doesn't obscure the trees. Adding to the grove's advantages, the trail is dirt instead of paved, making the hike more enjoyable, and it doesn't get nearly as many visitors. Finally, although the trailhead sign says to expect a 3- to 4-hour hike, it should be possible to hike to the grove and back in about half that time.
The road to the grove used to be a stagecoach route to Yosemite, and the sequoias were a major selling point of the route.
The trail starts out as a wide, well-maintained, perfectly flat dirt road. After half a mile, turn onto the narrower road that branches off to the left. This road descends about a mile to the grove.
The grove is located on a flat at the junction of two canyons. The sequoias are spread out over about a quarter-mile of the road. At first a few large trees are visible through the woods to your left, then there's a cluster of five sequoias right at the edge of the road. Continuing downhill, the road runs between two big trees. There are a few more fine-looking large sequoias before the trail reaches a well-built, modern cabin. After that point the road narrows to an unmaintained trail.
---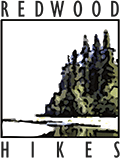 © 2012 David Baselt