★
Tuolumne Grove
---
Length 2.6 mi · Climbing 520 ft
The north approach to Yosemite has two micro-groves, the Tuolumne and Merced groves. The two groves are just a few minutes from each other near the intersection of Tioga Pass Road and Big Oak Flat Road. The hikes are similar, too; both are on old roads to Yosemite, and both require a downhill walk.
Tuolumne Grove is much less crowded but also much less scenic than the Mariposa Grove. Nonetheless, it's still a popular attraction and you might encounter a group every 1 or 2 minutes on the trail.
The grove is reached by a paved road that descends through rather mundane pine forest. The road was only recently closed to cars, in 1992.
The grove is something of a letdown. Maybe 5 or 6 big trees are clearly visible, all of which grow in a ravine just left of the paved road among a dense understory of dogwoods. A short bypass road leads to the Dead Giant, a ghastly-looking, long-dead sequoia with a stagecoach-sized tunnel cut through it. It's of the grove's most popular attractions.
The short loop trail doesn't have any notable living sequoias, just some small sequoias and big fallen logs. Past the loop trail on the main road is one more big sequoia in a relatively open area. After that point, the grove ends as the road enters a logged area.
Related websites

---
---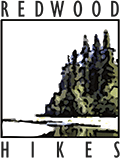 © 2012 David Baselt