Yosemite National Park
---
and Sierra National Forest
Background

---
Yosemite, and in particular Yosemite Valley, is really an extraordinarily beautiful place. The valley floor alone, even ignoring the 3,000-foot-tall granite formations and the immense free-falling waterfalls, is remarkably scenic: it has stands of huge stately maple trees arching over the roadway, lush green meadows, and a wide placid river.
Yosemite gets 4 million visitors a year; in summer the roads on the valley floor are really busy and the trails to the main sights are a continuous stream of people. But the park is still a lot of fun to visit despite the crowds, and in any case the crowds drop off dramatically once you start hiking.
Yosemite has way too many trails to cover here, so this page only covers the sequoia groves in and around the park. See the "Related Websites" section below for information about the many other hikes in Yosemite.
Yosemite has three small sequoia groves: the miniscule Merced and Tuolumne groves, which only contain a few trees each, and the larger and more scenic Mariposa Grove. In addition, just south of Yosemite is Nelder Grove, which covers a large area but has a very low density of sequoias and has been partially logged.
Sequoia hikes

---
**** Mariposa Grove (6.0 mi, 1250 ft)
Most visitors just walk the crowded first mile of this trail to the Grizzly Giant Tree, but the best part of the grove is the wonderfully scenic Upper Grove, another two miles up the trail.
** Merced Grove (3.6 mi, 500 ft)
This micro-grove only has a few sequoias and is reached by a rather long downhill hike on a dirt road.
* Tuolumne Grove (2.6 mi, 520 ft)
Like Merced Grove, visiting Tuolumne Grove requires a long downhill walk on an old road to see just a few sequoias. Nontheless, it seems to be really popular.
* Nelder Grove (1.2 mi, 200 ft)
Nelder Grove, in Sierra National Forest, has a very low density of sequoias. However, the woods throughout the grove are very lush and attractive. The quiet little campground is a nice alternative to the big, crowded Yosemite campgrounds.
Related websites

---
YosemiteFun is by far the best guide to Yosemite, although it hasn't been updated in a few years. It's very informative and a lot of fun to read. It doesn't have a lot of information on hiking, though. Also check out the author's amazing Yosemite pictures.
YosemiteHikes has more information on hiking than YosemiteFun. It's not related to RedwoodHikes.com.
---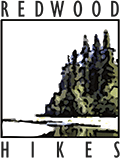 © 2012 David Baselt