★
The Redwood Loop Nature Trail
Big Basin's main attraction
---
Length 0.6 miles • Climbing 10 feet
The Redwood Loop is the centerpiece of Big Basin. The wide, level trail loops around a flat with the oldest and largest trees in the park.
The Redwood Loop was heavily damaged by the 2020 CZU fire, and walking it is a completely different experience than before the fire. Even so, it looks a lot better than the hillside and ridgetop trails, since there's actually a little tree canopy left in places.
The dense walls of foliage that used to surround the trail are gone, and the woods are a lot more open. The increased sunlight reaching the ground has produced thickets of grass and broom, which normally don't grow in redwood groves. The thick layer of redwood needles is gone and the soil is much harder and dryer than before.
From the 12-foot-tall "Redwood Trail" post near the parking lot entrance kiosk, the trail dives into the heavily burned woods. A few yards in, a trail to the right leads to the campfire center, of which only some log benches remain. Continue straight at this intersection, then turn left when the trail ends at a T intersection.
The Animal Tree, a redwood with a large burlwood growth at its base, was heavily damaged; its burls have split open and been hollowed out by the fire.
The trail passes the Father of the Forest tree, then the Mother of the Forest, the tallest tree in the park. The signs identifying the trees are gone, but the Mother of the Forest is the only tree that has a short side trail (maybe 5 or 10 yards long).
---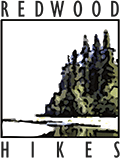 © 2022, 2023 David Baselt