Grizzly Creek was probably a really nice campground when it was built in the 1940s, but is now plagued with constant high-speed traffic noise. The campground on State Route 36, a two-lane highway that's one of the very few roads in and out of Humboldt County. Some of the campsites are only about 10 feet from the road, close enough that when cars roar by at 60 mph you can feel the breeze from them. None of the sites are more than about 50 yards away so there's really no relief from the noise anywhere in the campground. Worse, the campground is on one of the few straightaways on what's otherwise a very curvy road, so everyone guns their engine as they drive by the campground, including really noisy trucks, which seem to be especially plentiful.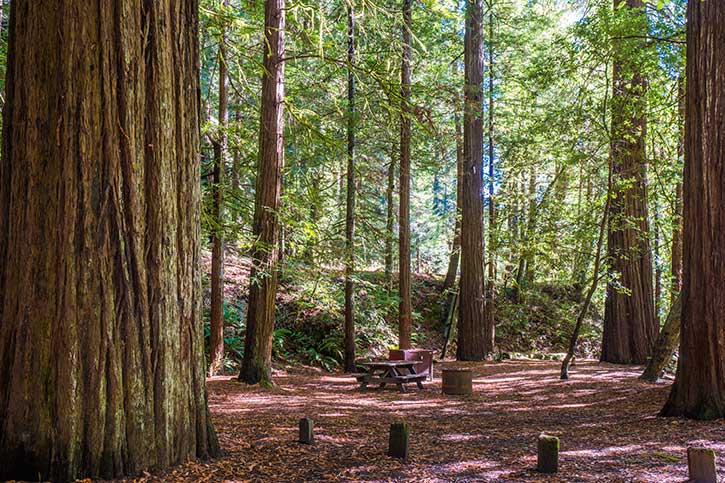 On the other hand, the campground is in a pretty scenic old-growth redwood grove and is one of the very few places where you can camp under old-growth redwoods. The sites that are right on the highway have the best redwoods; in fact, full-sized old-growth redwoods can only be found right next to the highway, and the size of the redwoods falls off very quickly as you get further from the highway. Even though the campground is only a few yards wide, the sites furthest from the highway are completely out of the redwoods. However, those sites are on a pretty scenic river so they have a different kind of charm.
Typically for a state park, the campground is well maintained. The campsites seem packed pretty close together, but that's pretty typical of older state park campgrounds.
The wide, shallow Van Duzen River flows by the campground. It's pretty shallow and rocky next to the campground, but just a few yards east and west of the campground are deeper, more placid areas. There's a lot of algae growing in the river and blue-green algae toxins can be a concern.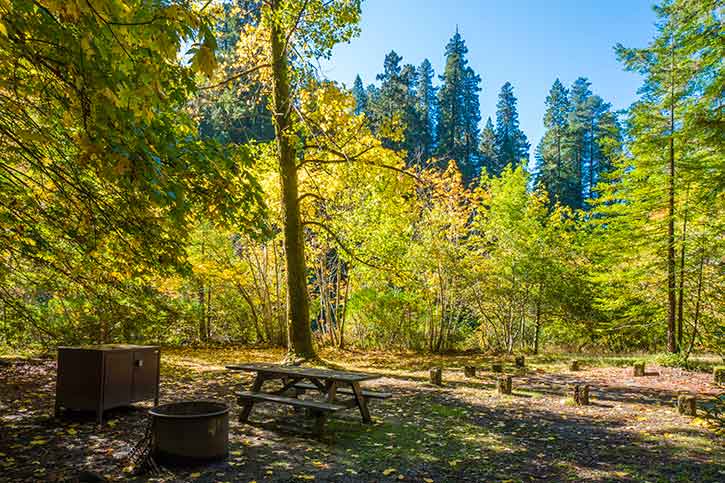 Things to do

---
Across Highway 36 from the campground are two short loop trails. The Nature Trail circles through typical old-growth redwood upland, climbing up a hillside among medium-sized redwoods. The Hiker's Trail and Grizzly Creek Trail don't have many redwoods, except for the stretch that runs right next to Highway 36.
The Fisher-Wouk Trail extends west from the campground into the most impressive redwoods in the main park. In the summer, seasonal footbridges let you cross the van Duzen River and access the Memorial Trail, which has a few old-growth redwoods but, overall, is nothing special.
Links

---
Here's the campground's location in Google Maps.
Make reservations on Reserve California; search for Grizzly Creek. "Campsites" are easier to park an RV in than "tent campsites", although there isn't a really big difference and the sites are otherwise the same.