Van Duzen County Park's campground is in a shady redwood grove in a bend of the van Duzen River. It's a very well-designed campground, set well back from the road so there's very little traffic noise, and with widely separated sites that offer excellent privacy. There's a nice mixture of wooded sites and sites on the river (although the river is kind of far away from most of the sites; site 7 is the only one that really feels like it's on the river). Several sites in an easy-to-reach location on the straight entrance road have electric hookups, which is an unusual amenity for a redwood park. Overall it's a very attractive campground.
The redwoods in the campground appear to be old growth; however, even though there aren't any stumps, and some pretty good sized trees are scattered around, the big trees aren't as nearly common or big as you'd expect for such a large, ideally-located alluvial flat. The trees also don't have the characteristic straightness of old growth and many of them are covered with vines, which aren't usually found in pristine groves. It's still a really nice environment, it's just not as spectacular as, say, Cheatham Grove, which is just down the road.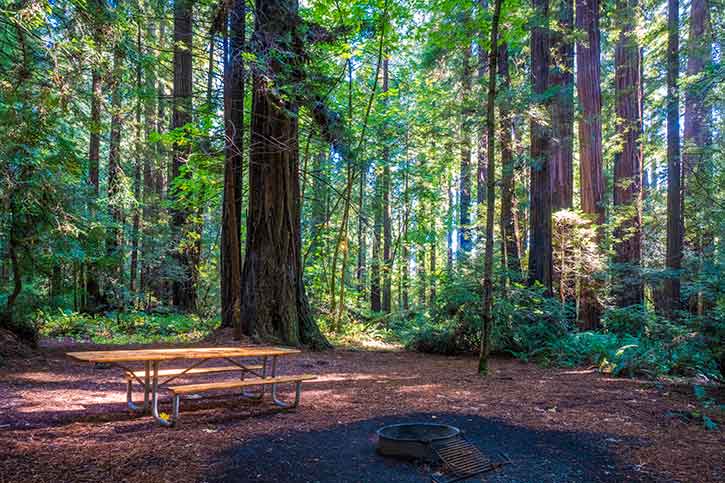 Details

---
There's only one bath/shower building with two showers for the entire campground, and both showers were out of order the last time I was there. However, the bathrooms are in pretty decent condition. There are also two new wooden outhouses at the Swimmer's Delight picnic area near site 1.
Another issue is that the campground doesn't take reservations; it's strictly first-come, first served. If it fills up, other than Grizzly Creek Redwoods, there aren't a lot of other places to camp nearby; the Six Rivers National Forest is in the mountains about 45 minutes up Highway 36, but if you're here to see redwoods, it's a long way from any of the redwood parks.
Each site has a picnic table (the picnic tables are nice and new) and a fire ring. Unusually, there are no food lockers; since this isn't a state park they don't have the "crumb clean" policy that the state parks do.
Camping is $25/night, or $35 if you camp in an RV site and use the electrical hookups.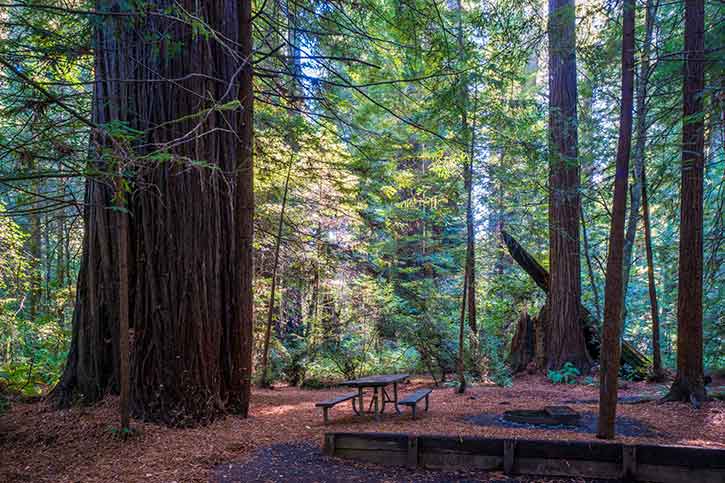 Best sites

---
The best sites are 20 and 21, which are set back in the woods on their own, isolated side road; you could easily miss them as you're looking for sites. Site 7 is also noteworthy; it's an RV-accessible site that's right on the river.
Things to do

---
The campground is in an out-of-the-way location and there aren't a lot of activities in the area. The campground is named for a popular swimming hole at the base of some pretty impressive cliffs, although the swimming hole may be closed if it looks like a piece of the cliff is about to break off. Another nearby attraction is the small but spectacular Cheatham Grove, a half-mile away. And Grizzly Creek Redwoods, three miles down the road, has campfire programs on weekends, although to attend you'd have to pay for day use parking.
Links

---