★★★
Alamere Falls, Bear Valley Route
---
Length 15.6 mi · Climbing 2160 ft
I like this route the best even though it's the longest. Easy fire roads at the beginning and end make the route fast for its length, and you're rewarded with a nice progression of different environments with a few brief but memorable views along the way. There's also plenty of parking.
The hike starts on the busy but rather utilitarian Bear Valley Trail. These three miles of wide and mostly flat trail could be ridden on a mountain or gravel bike; there's a handy bike rack at the Glen Trail intersection.
Turn onto the relatively quiet Glen Trail, which climbs up a wooded hill with some nice views of the conifer-carpeted hills of Point Reyes. Turn onto the dirt road briefly and then take one of the cut-off trails to the Coastal Trail. As the trail begins descending there's a nice view of Double Point through the trees; look carefully and you can see Alamere Falls at its base (it's a lot easier to see in the afternoon, when the sun is shining on it). A little while later there's a clear view of the ocean with Wildcat Camp far below.
The trail then descends through open scrub to Wildcat Camp. From here, take the same beach route as the Palomarin Long Route. Here again, you still have to get past the rock formation to reach the falls.
---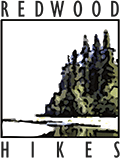 © 2019 David Baselt