★★★
Alamere Falls, Five Brooks Route
---
Length 14.5 mi · Climbing 2630 ft
This is the least-used and hilliest of the routes to Alamere Falls. It starts from the Five Brooks trailhead, where it's usually easy to find parking.
The first mile or so is on the dirt Stewart Trail and is heavily strewn with horse manure due to the nearby stables. Fortunately the manure ends when you turn onto the the Greenpicker Trail. The Greenpicker Trail is little-used (I've never actually seen anyone else using it) and can be overgrown, but if it's been maintained recently, the quiet, woodsy trail is really very enjoyable.
After reaching the ridge, the route re-joins the dirt road and descends through increasingly open woods interspersed with meadows. The woods give way to open coastal scrub as the trail makes its final descent to Wildcat Camp.
Continue past the camp and then walk along the beach to the falls. You still have to get past the same rock formation described above for the Palomarin Beach Route.
---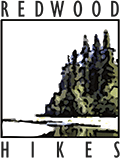 © 2019 David Baselt