Bicentennial Campground
---
Open all year · $20/night + $8
Bicentennial Campground is in a relatively quiet spot between the heavily touristed Point Bonita lighthouse and Conzelman Road. It isn't really anything special, mainly because it's in a dense cypress grove and the trees block the signature Marin Headlands vistas. It's an undeveloped campground, so there's no water (unless you drive a to the visitor center) the toilet is a plastic outhouse, and open fires are not allowed, although camp stoves are and supposedly there are plans to install barbeque grills.
The camp has three sites, each of which can accommodate 3 people, in a small grassy clearing. Each site has a picnic table, food locker, and an 8 x 8 foot tent pad. There's no vegetation to screen the sites from each other and the sites feel pretty close to each other. There isn't a lot of difference between the sites, but site 1 gets the most afternoon shade, site 2 is the most exposed, while site 3 is under the cypress trees and gets the most morning shade.
To get to the camp you have to walk down a short dirt road. There's an unmarked pullout at the top of the road where one or two cars can park; otherwise; there are more parking spots at the picnic area.
Thanks to its short access road this is the only campground in the Golden Gate National Recreation Area that's open all year. It used to be free, but there's now a $20/night fee.
The Battery Wallace picnic area is right next to the campground; it has barbeque grills and great views of San Francisco. Other nearby attractions include the Point Bonita Lighthouse, which is a short walk down the road from the campground, and Rodeo Beach.
Links

---
Here's the beginning of the access road in Google Maps and Google Street View. Since Conzelman Road is one-way on weekends, the only way to get to the campground is through the Baker-Barry Tunnel.
Make reservations through Recreation.gov.
---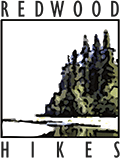 © 2019 David Baselt