China Camp's campground is in an deeply shaded oak grove in a sheltered glen.
China Camp is a walk-in campground; you park in the lot and carry your stuff 100–400 yards to your site. If the campground parking lot is full, which it usually is in summer, you'll have to park in the day use lot, resulting in a really long walk if you're camping in the valley floor sites.
The sites are well separated but the oak grove is so open that none of the sites are really private. Sites 11, 12, and 14 are the most private but are also really far from the parking lot.
Although China Camp is on an attractive section of the San Pablo Bay shoreline, the campground itself doesn't have any views of the bay. A few sites could actually might have pretty nice views if they weren't blocked by tall brush.
The "glade" sites on the valley floor have a sheltered feel, with dense tree canopy providing deep shade, but the understory is so open so there isn't any privacy.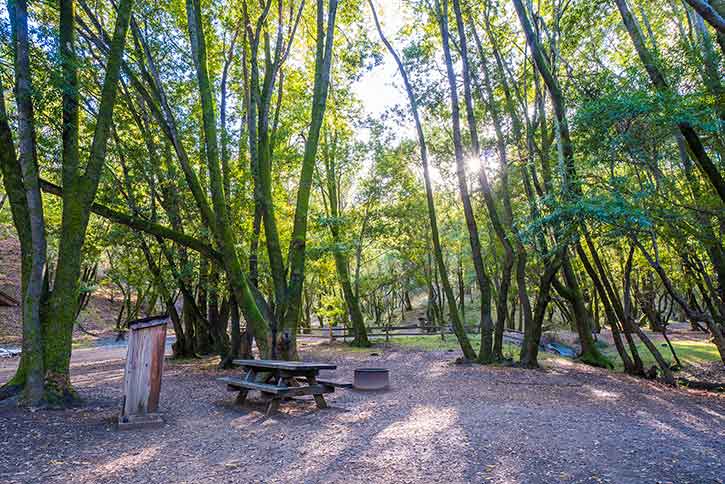 The "hill" sites are on a small plateau, elevated slightly above the valley floor. This part is brighter, with slightly lusher vegetation and maybe a little more privacy, although it's still pretty open. The hilltop sites are also windier. The small loop road (sites 23–29) is the most attractive part of the campground. It's also the most popular, in part because it's close to the large day use parking lot, where parking is always available.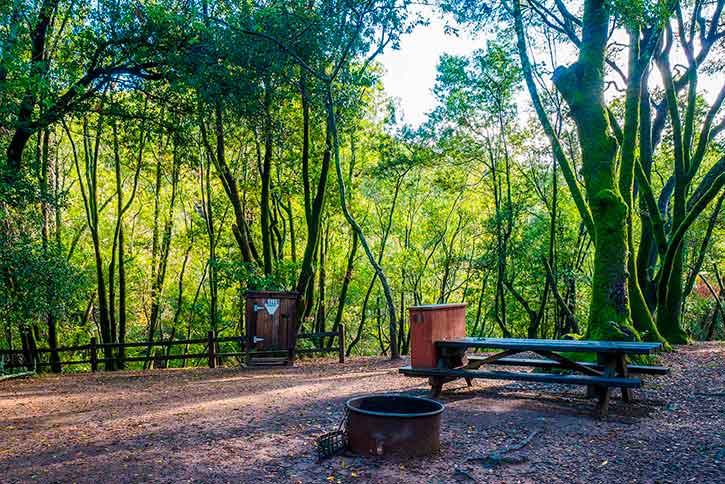 The campground seems to be much less popular than other Marin County walk-in campgrounds like Pantoll.
China Camp has an extensive trail system that seems to be almost exclusively used for mountain biking. The Shoreline Trail, which winds around the campground, is the most popular, with about a group a minute going by at peak times. Most people make a loop by riding out on the Bay View Trail and back on the Shoreline Trail. The trails are kind of annoying to hike because there are constantly cyclists going by.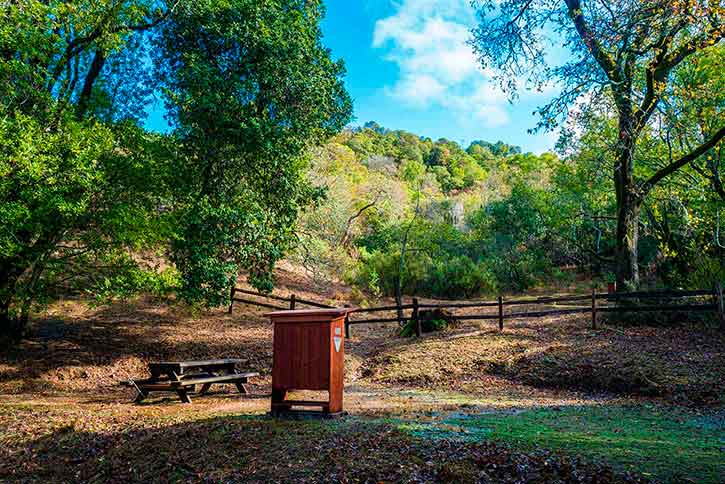 Details

---
Each site has a picnic table, fire ring, and wooden food storage locker. Mice can chew their way into the food storage lockers, so food should be kept in mouse-proof containers. The campground has showers but you have to get the camp host to unlock them.
Make reservations at Reserve California; search for China Camp.