★★
The Slate Creek Trail
to the Page Mill site
---
Length 7.0 miles • Climbing 880 feet
The Slate Creek Trail features a remarkably lush creek valley. Although the redwoods are mostly second growth, the wide, shallow valley bottom with its plush carpet of redwood sorrel is one of the most scenic parts of Portola Redwoods. It's a nice alternative to the much more difficult Peters Creek Trail, and an easy side trip from the Slate Creek Trail Camp.
The entire trail is little-used. You might see a few people on the trail before the Slate Creek Trail Camp, but it's unusual to see anyone after.
The bottoms of creek valleys in the Santa Cruz Mountains and Big Sur tend to be strikingly lush, but Slate Creek has an unusually large amount of redwood sorrel. The nearby Peters Creek Loop also has a lot, but the valley is narrower so it covers a smaller area.
The entire hike is in the shade, mostly under upland redwoods.
Park near the visitor center and hike up the paved service road. Turn onto the Summit Trail, which climbs through pleasant but unexceptional upland redwood forest. The redwoods are pretty small in this area, although there aren't any signs of logging, and there's a group of mid-sized redwoods that appears to be old growth around the intersection with the Slate Creek Trail.
It's an easy, level 1.3 miles on the Slate Creek Trail to the Slate Creek Trail Camp. The trail contours along a hillside with a few groups of mid-sized redwoods along the way.
From the trail camp, the Slate Creek Trail descends slightly into the creek valley. The really good scenery begins when the trail reaches the bottom of the valley, at the Page Mill site. The site itself, which was the original destination of Page Mill Road, has a historical marker, but otherwise there's nothing to see.
The trail climbs through a wide, lush valley bottom that's exceptionally quiet and isolated. It's hard to believe that the open hilltops of Skyline Ridge are just a few miles further up the trail. The redwood sorrel makes it feel a little remniscent of the Grieg-French-Bell Grove in Humboldt Redwoods.
Some stumps can be seen but the woods are still quite attractive, with none of the dismal look of clearcut groves.
Eventually the valley becomes narrower. This narrower part of the valley is less scenic, but doesn't show any signs of logging and may be old growth. Turn around at the point where the trail makes a hairpin turn and descends to a creek crossing.
For variety, on the way back take the Slate Creek Trail all the way to the visitor's center area. The trail contours through some ravines filled with small but attractive upland redwoods.
---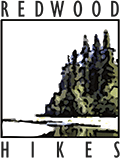 © 2022 David Baselt