Pescadero Creek County Park
and the Pescadero Creek Complex
---
Pescadero, Memorial, Sam McDonald, and Heritage Grove County Parks are all part of San Mateo County's remote, redwood-blanketed Pescadero Creek Complex. The parks' interconnected trail system provides some very nice hiking, mostly in second-growth forests, but with a few patches of old growth.
The complex doesn't have any really spectacular sights, but their strikingly lush, green woodland is a lot nicer than the more popular Skyline Ridge parks. The area is also remarkably quiet, with little or no traffic noise on most trails and relatively few visitors.
Pescadero Creek County Park
Pescadero may be the peninsula's most underappreciated park. Despite its attractive forests and an excellent, well-maintained network of trails, hardly anyone comes here. Even on a nice summer weekend you may not meet a single hiker on the trail. The land was at one time owned by a timber company and throughout the park are scattered dismal areas of logged redwooods, with lots of big stumps and a dense growth of small trees. However, most of the park consists of more gently-managed forests that don't show any sign of logging except, perhaps, for a lack of fallen trees. The redwood forests are restricted to the lowest elevations, with mixed forests and open grasslands higher up the hillsides. Taken as a whole, the park is more attractive and enjoyable than some old-growth redwood parks.
Pescadero lacks visitors because it hasn't been developed: there's no ranger station or visitor center, only two primitive trail camps, and no facilities. In fact, you can't even drive into the center of the park; you have to hike in from a neighboring park or from the Tarwater trailhead, a remote dirt lot that's accessed by a single-lane road. Plans to develop the park — which included a proposal to generate income for the county by logging its forests — were fortunately defeated by local residents concerned about traffic.
As a result of its isolation, Pescadero is strikingly quiet and peaceful, with a complete lack of traffic noise that's something of a shock for those of us who frequent the suburban parks around San Francisco Bay. Surrounded by a seemingly endless expanse of conifer-clad hills, the park has a wild, remote feel that you just don't get closer to home. What's more, the park is close to the ocean and usually has refreshingly crisp and cool air in the summer, yet rarely gets the depressing all-day fog that cloaks the immediate coastline.
Memorial County Park, Sam McDonald County Park, and Heritage Grove
Two smaller neighboring parks, Memorial Park and Sam McDonald Park, are more developed than Pescadero Creek, with extensive camping facilities and some nice trails. Memorial County Park has a large and very popular campground set in an old-growth redwood grove. Sam McDonald County Park has a series of group campgrounds located in second-growth redwoods; there's also a horse camp and a hikers' cabin. A fourth park, Heritage Grove, is a tiny and attractive redwood grove located on Alpine Road. Together, the four county parks are known as the Pescadero Creek Complex.
The only staffed location in the Pescadero Creek Complex is the Memorial County Park entrance kiosk, where you can buy maps and ask about trail conditions.
Old-growth redwood hikes

---
** Heritage Grove (0.5 miles)
Although this tiny park only contains a few dozen big redwoods and a few hundred feet of trail, it's worth a visit since it's really a very nice redwood grove.
Other hikes

---
** Coyote Ridge and Shingle Mill (5.8 miles)
This hike is a nice introduction to the area. Half the hike is in Portola and half in Pescadero, and the loop highlights the subtle differences between the two parks.
** The Mount Ellen Loop (3.8 miles)
This hike through Memorial County Park has shady redwoods, open scrub, and lush mixed-species forest. There's also a small old-growth grove near the starting point.
* Butano Ridge (13.1 miles)
This exceptionally quiet and remote hike climbs to the top of a large isolated ridge that looms over the park. There aren't any views, but there are a lot of nice second-growth redwoods.
* Tarwater - Pomponio - Brook - Canyon (10.6 miles)
This very peaceful and isolated hike, an extended version of the Tarwater Loop, shows off the pleasant, bright redwood and hardwood forests of central Pescadero Creek County Park.
* The Heritage Grove Trail (6 miles)
This loop explores the best trails of Sam McDonald County Park. It climbs to a grassy ridgetop with panoramic views, passes the Hikers' Hut, then descends into mostly second-growth redwoods.
Car Campground

---
*** Memorial County Park Campground
Memorial County Park is a great base if you want to escape the summer heat, explore the coast, and munch on artichoke bread under the deep shade of the redwoods; maybe less so if you want to go all John Muir and be one with the untrammeled wilderness.
Trail camps

---
*** Tarwater Trail Camp
Tarwater is a quiet, remote backcountry campground in a bright, attractive second-growth redwood grove. Like the park as a whole, the camp is little used.
** Shaw Trail Camp
Shaw Trail Camp is a quiet, little-used campground in a mixed-species woodland about a 3-mile hike from the Hoffman Creek Trailhead. It's not quite as attractive as Tarwater Trail Camp, but it's more spread out.
News

---
The Sheriff's Honor Camp, more commonly known as the La Honda Jail, has been re-opened to relieve overcrowding in Redwood City jails. See this article in the Half Moon Bay Review and another in the Oakland Tribune.
Additional information

---
Trails renamed

---
All of the loop trails in Pescadero Creek and Sam McDonald County Parks were renamed in late 2015. Cheerful new trail markers were installed throughout the park and the drab old ones removed. The new signs also have intersection numbers.
The Butano Ridge Trail Loop has been split into the Ocean View Trail, the Butano Ridge Fire Road, and the Butano Ridge Trail.
The Tarwater Trail Loop is now the Tarwater Trail and the Shingle Mill Trail.
The Brook Trail Loop has been renamed the East Brook Trail and the West Brook Trail.
The Bridge Trail has been renamed the Baker Fire Road.
The Forest Trail Loop is now the Uncle Man Road, Old Stage Road, Forest Trail, Youth Camp Trail, and Chinook Trail.
The new trail names appear on the current editions of all Redwood Hikes Press maps.
---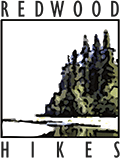 © 2005, 2006, 2012, 2015, 2018 David Baselt