Hendy Woods' very popular campground is on a wooded rise between the park's two old-growth redwood groves. Opened in 1963, it has the spacious, spread-out feel of campgrounds built in the age of suburbs, with large, well-separated sites.
The campground is well off the main road and doesn't get any traffic noise. It is, however, busy and full of screaming kids most weekends, but that's true of any state park campground. Also, despite the separation between sites, the woods are fairly open so there isn't a lot of privacy.
The campground is on a slight rise in somewhat mundane-looking tanoak and laurel woods with a few small, scattered redwoods. It's nowhere near as lush as the nearby redwood groves, probably because the slight elevation is enough to raise it above the water table.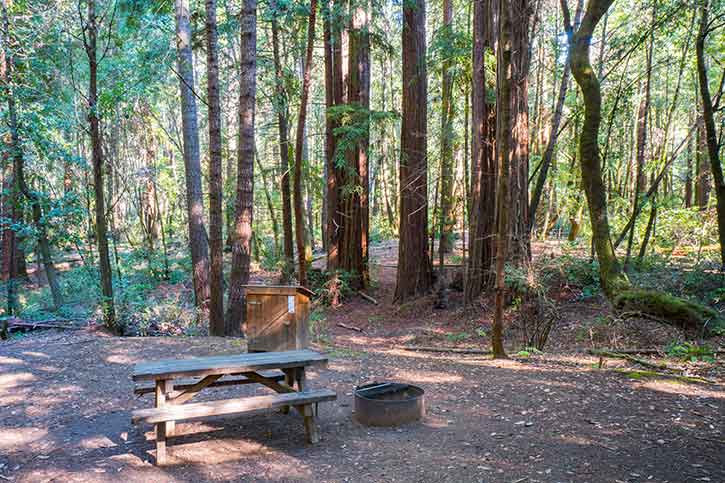 Suggested sites

---
All the sites are actually pretty similar; there isn't even much of a difference between sites inside and outside the loop roads. However, these looked a little better than average:
Wildcat site 49 is a nice big site.
Wildcat site 51.
Wildcat sites 58 and 62 have the most redwoods, but are a little less private.
Azalea site 19 seems a little more separated from its neighbors than average.
Otherwise, sites on the outside of the loops but not between the two loops.
The Azalea loop has a nice new bathroom and shower building near site 3; but other bath is old. A few of the sites have some small redwood stumps.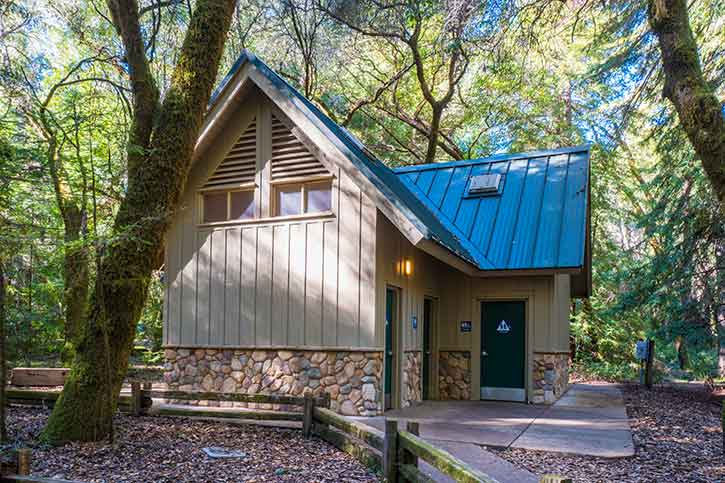 The Wildcat loop is slightly better-looking because it has more redwoods, some of which are pretty good-sized. However, it's only open in summer.
Cabin Colony

---
The campground has four cabins that are open year-round. Like all state park cabins, they're pretty small and basic. They have wooden bunk bed-style sleeping platforms with no mattresses or padding of any kind, so you have to bring you own beddings. Each cabin has a table but no chairs. There's no electricity or lighting, and no bathrooms. But each cabin does have a wood-burning stove so you can stay nice and warm on chilly winter nights.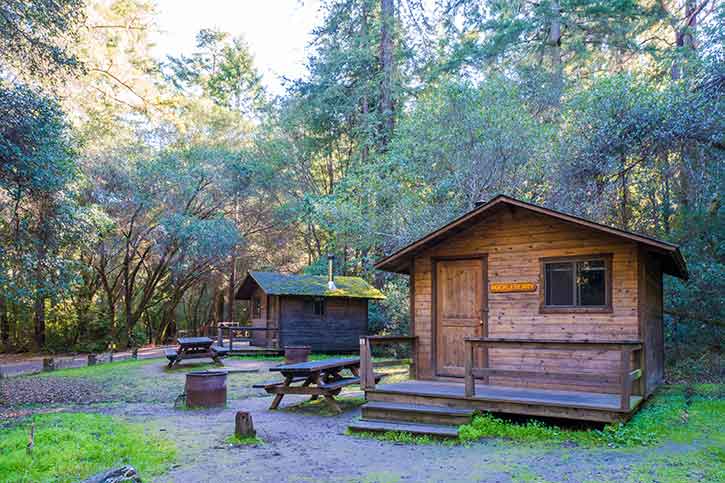 Things to do

---
The Little Hendy redwood grove is practically next to the campground, and the much more spectacular Big Hendy is an easy 15-minute walk away. The Navarro River, a popular spot to hang out on hot summer days, is also nearby.
Just outside the park are several wineries and restaurants, a brewery, a few orchards that sell jams, cider, and other products, and an alcoholic cider tasting stand. It's a 30-minute drive to the coast through Navarro River Redwoods State Park.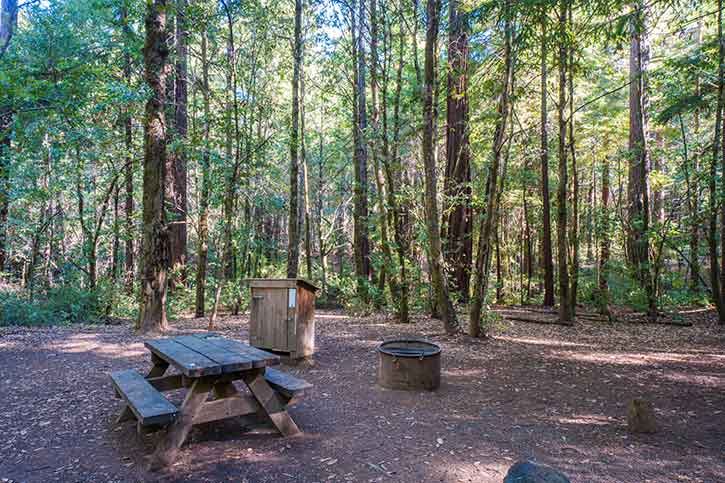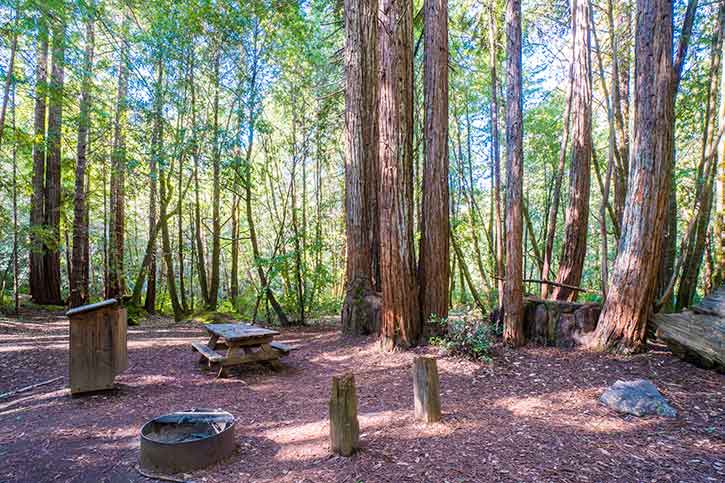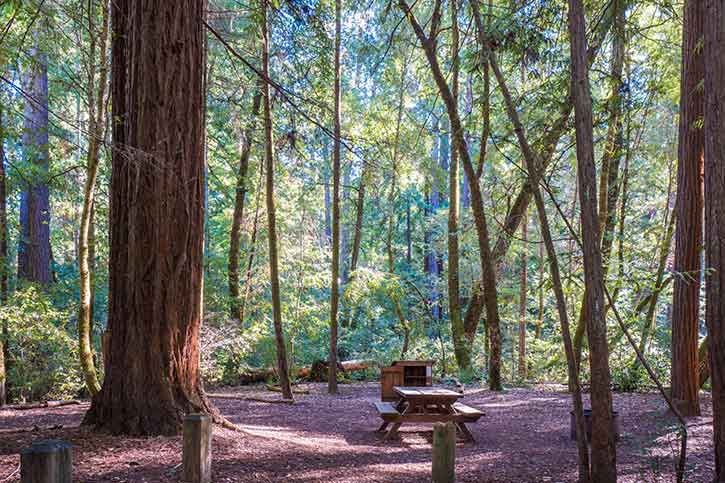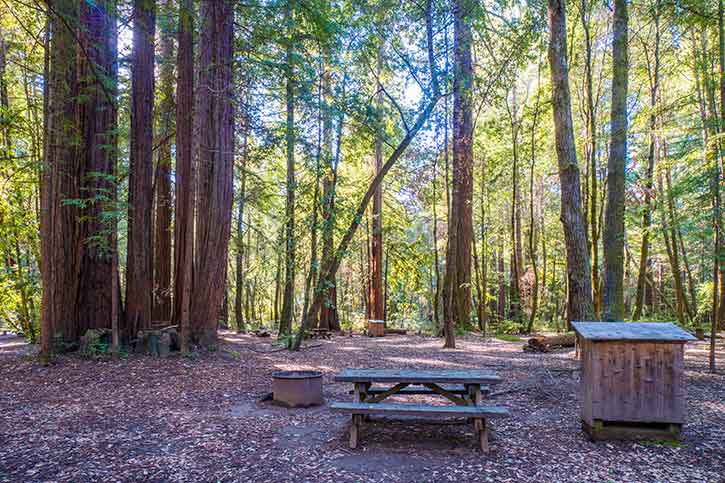 Details

---
Each site has a picnic table, fire ring, and wooden food locker. All sites are shaded. Pay showers are available and use about $2.00 in quarters. There's no soap in the bathrooms. The campground has two EV charging stations.
Reservations can be made for arrival dates up to 6 months in advance. The departure date can be up to 7 months in advance, so some dates can be sold out more than 6 months ahead of time. The campground is booked up almost every weekend.
RVs up to 35 feet are allowed. Most sites have long pullouts suitable for RVs up to 25 feet, but some have short, double-wide pullouts intended for two side-by-side passenger cars. The ReserveCalifornia site doesn't distinguish between the two, and has all sites marked as RV sites. None of the sites have hookups.
ADA sites can only be reserved if you have a disabled parking placard. Any unreserved ADA sites are available on a first-come, first-served basis.
The campground has two hike/bike sites for long-distance cyclists. The sites cannot be reserved, and if you stay at a hike/bike site you can't bring a car into the park.
More information

---