Some redwood groves seem to yield great photos every time, while others are almost impossible to photograph. Overall, open groves like Stout Grove or the Boy Scout Tree Trail are the easiest to photograph, while Prairie Creek's dense understory makes it difficult.
It's easier to get decent pictures when there's some sunshine but the sun is low in the sky, or there's a thin layer of clouds filtering the sunlight, or, best of all, both. Summer is the hardest time to take pictures since there's usually only an hour or so in the late afternoon when the lighting is good, and especially in Prairie Creek, the marine layer clouds often roll in during that time and spoil the fun.
Redwoods always look better with fog, but the low-elevation groves where the biggest trees are found are almost never foggy. The foggiest groves are on west-facing hillsides near the ocean, so if you notice low clouds shrouding the hilltops, try heading for the Berry Glen Trail or the first three-quarters of a mile of the Damnation Creek Trail.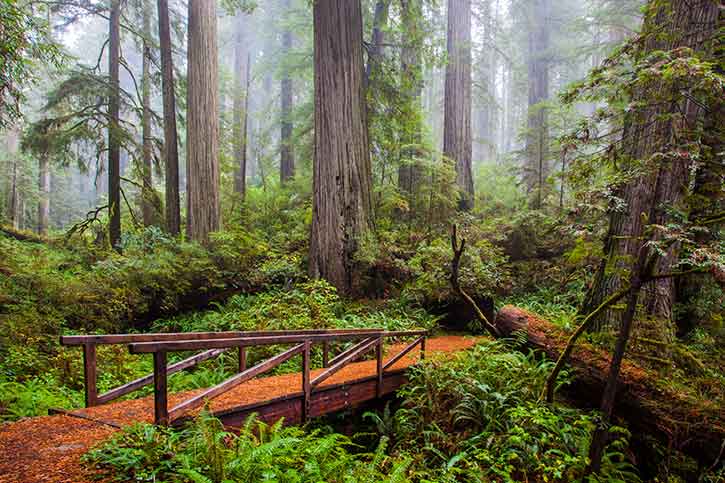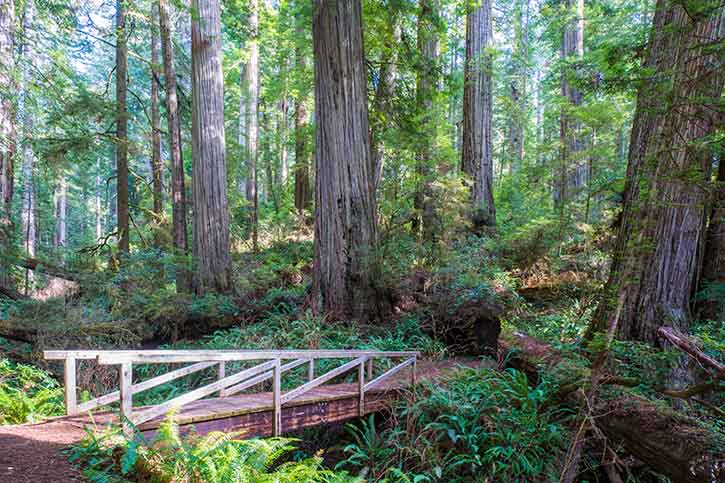 Huge pink rhododendron blooms appear from mid-May through as late as the fourth of July, although after mid-June they might be a little tattered. The flowers are elusive: they don't bloom everywhere at once, and it's hard to predict when they'll appear in a particular location. Hilltop groves like the Lady Bird Johnson Grove, the beginning of the Damnation Creek Trail, and the Three Hour Loop seem to be the best.
Elk can sometimes be found in open areas around Prairie Creek Redwoods. The most likely places to find them are Elk Prairie near the visitor center or Highway 101 just south of the visitor center. Sometimes they're on Gold Bluffs Beach, but it's harder to find them there because the beach is so big.
There's a little fall color in October, when the streamside maples turn yellow, for example on the Prairie Creek Trail.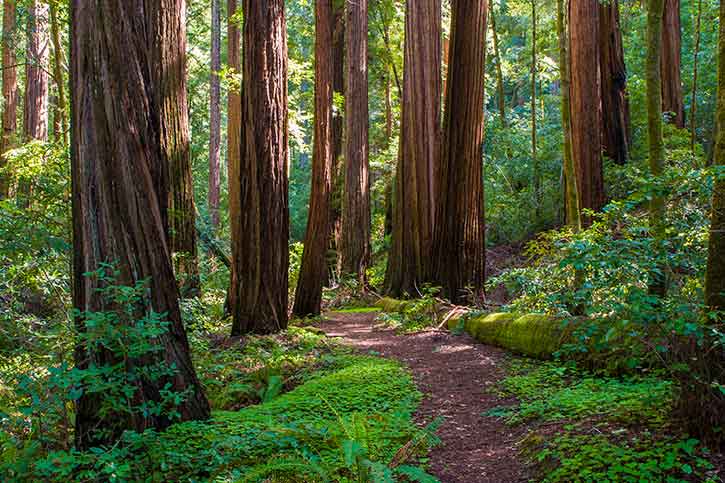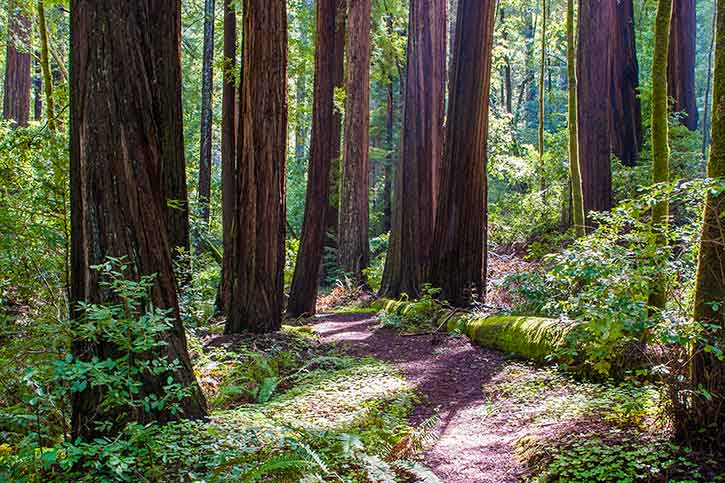 Photographic equipment

---
The redwood pictures on this site were taken using either full-frame or APS-C DSLRs, mostly with ultra-wide-angle zoom lenses (16–24mm or equivalent). To get a reasonable depth of field the f/stop is f/16 (full-frame) or f/11 (APS-C). In the deep shade of the redwoods that usually results in exposures of 1–4 seconds at ISO 100, so tripods were used for all shots.