This trail camp is in an attractive little glen, partly shaded by a big oak tree and with a view of Mount Diablo. The little camp is surrounded by cow pasture and is fenced in, which is a good thing since the surrounding fields are liberally strewn with cow manure. It's one of the more remote East Bay backpack camps; the area is little-visited and there's no traffic noise.
The entire camp is a single site that can accommodate up to 20 people.
The camp is a 3-mile hike on old ranch roads from the Morgan Territory parking lot. It can also be reached by a three-quarter-mile walk from Morgan Territory Road, but overnight parking isn't allowed there and the shortcut requires climbing over a locked gate.
The camp has two leveled areas for tents and three picnic tables, two of which are in the late-afternoon shade. There's also a pit toilet, a horse trough, and a water spigot with untreated water. Campfire are unfortunately not allowed, only camp stoves.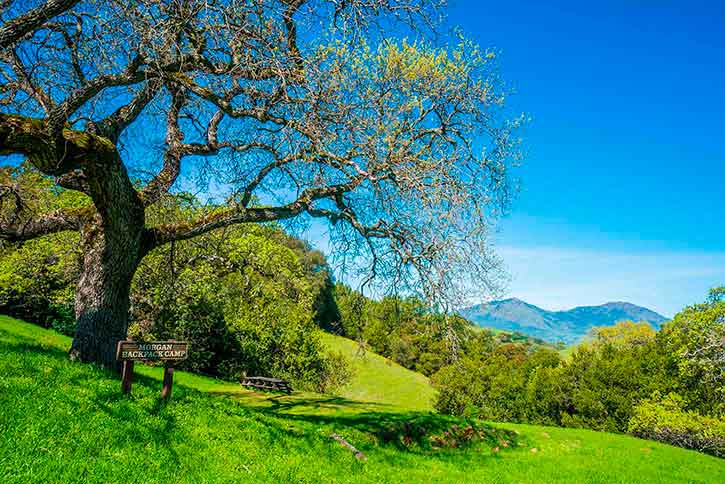 Although the camp itself is pretty scenic, the area around it is a little dull. You can climb up Highland Ridge Road to some nice views, but otherwise there really isn't much else to see except for miles of rolling oak-dotted ranchland.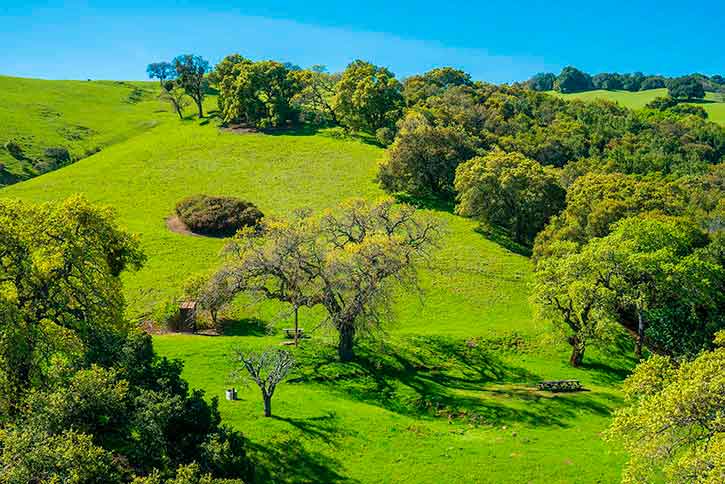 Details

---
Reserve America has an online calendar that shows if the site is available (a "C" means it's available). However, reservations can't be made online and you can't register at the park; you have to call EBRPD at least five business days ahead of time so they can mail you an overnight parking pass. Reservations for the year become available at the beginning of the year, earlier for East Bay residents. It's usually easy to find open dates a few weeks in advance.